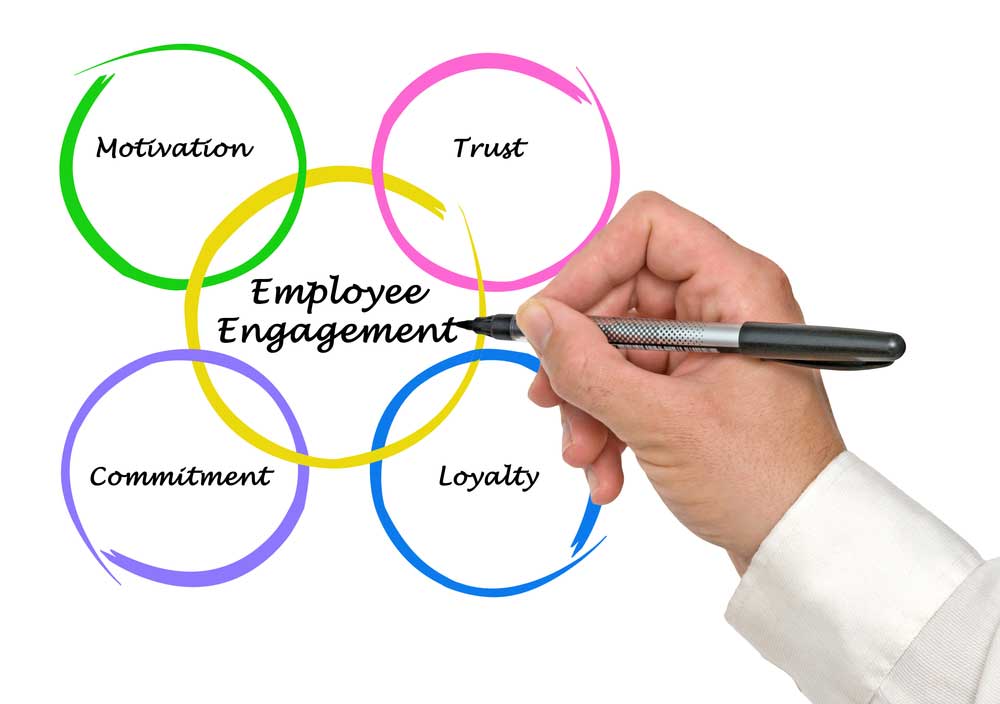 6 WAYS TO INCREASE EMPLOYEE ENGAGEMENT
I've never seen more "employee engagement programs" thrown at employees, and we've never seen lower engagement scores. So what's going on?
One way to look at the challenge of employee engagement is to observe the relationship between three concepts: achievement, expectations, and happiness.
Happiness results when your achievements meet your expectations. For example, if your expectation of your boss is "100", and she achieves only "80", then we say your happiness score is -20. On the other hand, if you have an expectation of your boss of "80", and she hits "100", then your happiness score is +20.
What happens when this same boss, who meets the expectations of one employee, doesn't meet the expectations of another employee? One employee will be happy. The other will be unhappy. Maybe the problem isn't the boss. Maybe the problem is the nature of our expectations. While bosses and organizations certainly need to work hard to achieve a highly engaged culture, employees share the responsibility of hard work to achieve their own level of engagement while simultaneously decreasing their expectations. To paraphrase John F Kennedy: ask not what your organization can do for you, but what you can do for your organization.
Lazy employees (i.e. they don't want to achieve much) combined with high expectations, is called entitlement. And entitled people are never happy. Have you ever noticed that the most entitled people in your office are the ones that are the most miserable? Many people bring enormously high expectations to work and to all their relationships. My mother had a scholarly word for this kind of person: spoiled.
It appears to be human nature that the more we get, the more we expect. Research will bear out that the societies with the lowest GNP are often the societies with the happiest people. They are likely happy because their expectations are lower. There's something to be said about simply being satisfied with what we have.
While I'm all in favor of bosses developing ways to create environments that engage people, I know some leaders who could deliver the moon for their employees and they still wouldn't be happy. This is because most people who are unhappy at work aren't just unhappy at work. They are unhappy with all aspects of their lives. We all need to examine carefully our level of expectations. To increase your happiness and engagement at work:
1) Carefully examine your expectations. It has been said that expectations are premeditated resentments. Often, high expectations stem from unhappiness in your life and expecting others (e.g. your boss) to make you happy. This is a formula for discontent, both for you and for your boss who might be trying too hard.
2) Take 100% responsibility for your own happiness. Your life will change the day you decide that all blame is a waste of time. Taking 100% responsibility means that you take responsibility for getting your needs met instead of demanding that someone do it for you.
3) Be careful about over achieving. It's good to set a goal and achieve it – providing it meets an expectation. But if you are an overachiever who continually expects more and more of yourself (and usually others too), you'll never be happy. You'll always be striving for the next achievement. The only way to fill that hole is to learn to be satisfied with what you have achieved.
4) Give what you expect. My parents used to say, "You don't get what you expect. You get what you give." No amount of employee engagement programs can possibly fill all the insecurities and unhappiness that employees bring to work. To counter the frustration of not getting what you expect, clarify what you expect, and then give that. For example, if you expect appreciation, get so busy appreciating others that you don't have time to feel sorry for yourself. It was Zig Ziglar who said, "You will get all you want in life, if you help enough other people get what they want."
5) Realize that you can't meet everyone's expectations. Like a request, an expectation is not an agreement. Realizing this will un-complicate your life. It is absolutely impossible to meet everyone's expectations of you because it is physically and mentally unattainable for any human being to be all things to all people.
6) Practice gratitude. The antidote to entitlement is gratitude. We all need to look at ourselves when it comes to employee engagement. It's a shared responsibility. Yes, positional leaders have a responsibility. But so do employees. What you focus on grows. What you appreciate appreciates.
https://davidirvine.com/wp-content/uploads/2016/01/engaging_employees.jpg
704
1000
Administration
https://davidirvine.com/wp-content/uploads/2021/06/davidirvinelogo_2021.png
Administration
2016-05-10 09:54:10
2016-05-10 09:54:10
6 WAYS TO INCREASE EMPLOYEE ENGAGEMENT