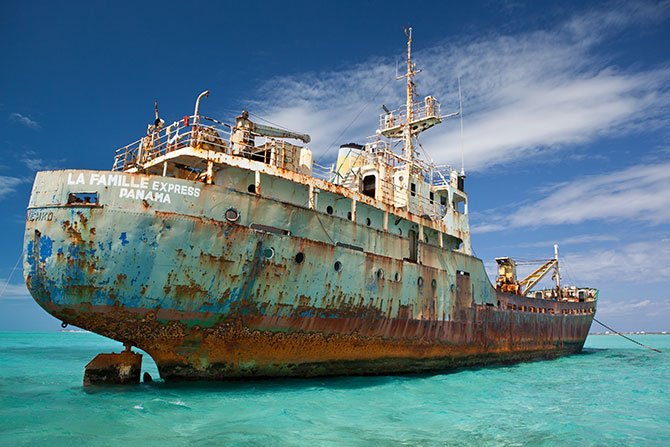 Entitlement: Greatness Run Aground
I have noticed that every time a great culture is built, there appears to be an opposite and equal reaction to greatness: entitlement. It seems to be human nature. If you give your kids a lot, they want more. I grew up with telephone party lines, with one line for up to five or six residences. There were times when you had to wait 1/2 hour to make a phone call. Now I get impatient with my cell phone provider when I get a dropped call and have to redial with the push of one button.
It used to take a winter to travel across this country on chuck wagons and horses. Now, as expectations have been raised, I find myself getting upset if a plane is thirty minutes late. Living in a great country, with world-class health care, education, law enforcement, and political systems seems only to increase our craving for more. Meet our needs with a high standard, and we raise the bar with a demand for more. I've seen the same dynamic in organizational cultures. The more the organization gives us what we want, the more entitled we feel. The best cultures I have worked with all experience the challenge of entitlement.
The reverse of this also seems true. My mother lived through the depression in a 900 square foot shack with ten siblings, enduring years of unimaginable poverty, and was void of entitlement. When she was close to death I asked her how she felt about dying. "After seventy-eight years, I accept death. I was fortunate just to have lived!" Joyce did not even feel entitled to life itself. Hard times are an ally in battling entitlement.
All the recent attention to building great cultures, empowering employees, and developing leadership capacity so people feel engaged seems to have unintentionally reinforced our love of entitlement. Living in great cultures has somehow fostered a belief that we have a right to get whatever we want without any obligations in return. Doing our own thing and expecting rights without service is self-serving. In the name of a great culture, we see people ask for such things as more pay, more freedom, greater recognition and privilege, more flex time or a risk-free environment without any reciprocating accountabilities.
This is simply wrong. Just because we are attempting to build cultures of trust that encourage you to find your authentic voice doesn't mean you will get everything you ask for or have absolute security. Cultures of trust require a partnership, a commitment to a dialogue, not acts of concession. Accountable, authentic cultures of trust are based on reciprocal agreements. There are no licenses granted.
At the heart of entitlement is the belief that "my wants are more important than the culture and the culture exists for my sake." At some point each of us needs to grow up and discover that our self-interest is better served by doing good work than by getting good things. Entitlement also rests on the belief that something is owed us because of sacrifices we have made. In reality, entitlement claims rights that have not been earned. It diminishes self-respect and constrains our freedom. The only way to reclaim what we have lost to entitlement is through acts of commitment and service to an entity larger than ourselves – the culture we work and live in.
When you see entitlement in the culture you live or work in, there are four steps to counter it:
See entitlement as a sign of growth and greatness. You won't find much entitlement in poverty and highly bureaucratic systems that have been suppressed for years.
Identify the value or values you want to replace entitlement (e.g. self responsibility, service to others, gratitude).
Find the allies in your culture who live by the values you are committed to and support them to foster these values with others who trust them. Like parenting, you only influence the values of people with whom you have a strong, trusting relationship.
Get the values you want to instill off the wall and into people's hearts through conversations and clearly defined actions. Then make a promise to live and work in accord with these actions, while being open for ongoing feedback and learning. Then shine a light an actions that are self-responsible, committed to service, and exude gratitude. Tell the story. Keep the renewed values fresh, making it difficult to be entitled.
Thanks to Peter Block (Stewardship: Choosing Service Over Self-Interest, Berrett-Koehler Publishers) for his inspiration behind many of these insights.
https://davidirvine.com/wp-content/uploads/2016/01/entitlement_greatness_run_aground.jpg
447
670
Administration
https://davidirvine.com/wp-content/uploads/2021/06/davidirvinelogo_2021.png
Administration
2014-07-02 10:16:38
2016-01-19 10:20:14
Entitlement: Greatness Run Aground