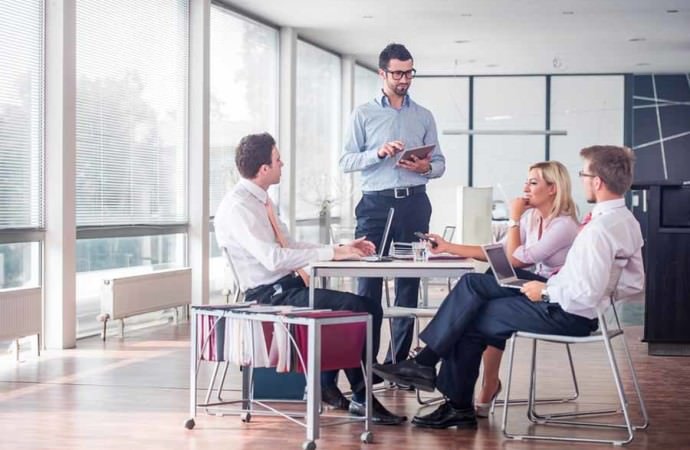 Humanizing Our Workplace: Leading With Care Rather Than Fear
A long-time client told me a few weeks ago that his first task, as a recently hired manager in a power company, was to "humanize" the plant. When I asked what he meant by this, he explained that he was brought in to change the culture from one that was described as "management by chopping people's heads off" to "leadership through respect."
"How are you going to do that?" I asked him.
"I'm not quite sure, to be honest," he replied. "I've only been here a couple of months and so far most of what I've been doing is wandering around, asking questions, observing the operation, and learning about the plant and what people do here. This has given me a chance to open up with the employees, have them get to know me a bit, and have me share some of my expectations and my approaches to leadership."
He then told me about an employee he had taken aside so he could acknowledge the quality of the employee's work, his attention to detail, and the example he was setting for his team through a strong work ethic and positive attitude. After hearing this honest feedback the employee fell silent. With tears in his eyes he responded, "In my twenty-five years working at this plant, you are the first person to tell me I'm doing something right."
Humanizing our workplace isn't about gimmicks or fads. It's about respecting ourselves enough to show genuine respect for others. It means creating a caring environment and embracing a commitment to help people grow, just as much as it means getting good results. Humanizing our workplace is about creating a space where people feel safe to be who they are. It's a sustaining, simple, down-to-earth philosophy that liberates us from "chopping people's heads off" to focusing on what really matters. In short, it isn't about being right; it's about being real.
The word organization comes from the word "organ." Organizations aren't machines that can be managed like a piece of equipment or with a technical procedure. Organizations, at their core, are about heart, soul, and human beings. Work has to provide opportunities for personal growth, as well as financial growth. If it doesn't, we are spending far too much of our lives there with far too few rewards.
While there are no rules for humanizing our workplace, below are ten guidelines that may help you in your journey to make your organization a more human place for everyone.
Resist the tendency to manage by email. Humans need face-to-face contact. Get out on the floor. Walk around. Ask questions. Your purpose isn't to be interesting. It's far more important to beinterested. If you can't get people face-to-face, at least pick up the phone and talk to them. Emails, furthermore, can be a black hole that consumes your whole day. So set boundaries around your computer time.
Pay attention. One primary difference between a boss and a leader is that bosses "know" while leaders "learn." There is a time for certainty, when we must tell people what needs to be done. But true leaders spend much of their time listening and watching. They make a point of learning. Tom Peters tells us that the four most important words in the English language are, "What do you think?" Employees can teach us a great deal when we slow down and listen to them, when we ask them what they think. Humanizing our organizations means paying attention to what people need and to the impact our actions have on others, and when we notice our own mistakes. Paying attention is about self-awareness, humility, and gratitude. When we are sincere, four additional words that will never let us down are, "I'm sorry" and "thank you."
Take care of yourself. Caring about others has to come from overflow and not emptiness. Caring about ourselves means having consistent habits that ensure we are taking care of what matters most to us: our health, our most important relationships, our own development, and our sense of inner peace and well-being. We won't get respect from others if we don't respect ourselves. We can't jumpstart anyone else unless our own battery is charged.
Make your expectations clear. Humanity in the workplace means clarity. It's disheartening for people to go home at the end of a day, not knowing if they've met their boss's expectations. Be clear with people. Tell them what you expect. Tell them the standards you have, not just for operational results, but also the kind of attitude you expect to see, in concrete, behavioral terms.
Be sure that support follows your expectations. There's nothing wrong with expecting a lot from people. Just be sure that with every expectation comes an equal commitment to provide support. Make sure that your people have the resources to do what you are asking of them. It's inhuman to expect something from someone when they don't have the ability to do it, and there's no commitment to support them.
Be honest. Honesty is the single most important attribute in a leader's relationship with employees and fellow workers. Honesty means acknowledging people's good efforts. But to really care about someone we also have to be willing to say, "Bob, I care about you and about your work, and I have to tell you that you aren't performing as well as you need to get the job done." Humanizing the workplace means setting standards and applying them equitably and individually and firmly. Following through on consequences, even if it means firing someone, is an act of caring if it's done with clarity, honesty, and respect.
Don't just push harder. When my computer doesn't do what I want it to, I often just push the keys harder. Pushing harder doesn't work with computers and it doesn't work with human beings. When things aren't working we have to step back and take time to understand, re-clarify, and develop a new plan of action.
It's about creating value. I learned years ago to first bring value to others before expecting something from them. This principle applies to every relationship, from selling a consulting contract, to getting a job, to earning a team's trust. Humanizing our workplace starts with a continual commitment to finding out what's important to people and adding value to their life.
Be the source. My mother used to say, "Be careful what you give to the world because whatever you give will come back to you." If we bring negativity, disrespect, and animosity to our job, that's what we get back. Start giving to others what you expectfrom others. If you feel you aren't getting acknowledgement for your hard work, get so busy giving others recognition that you won't have time to feel sorry for yourself. George Bernard Shaw, the Irish playwright and philosopher, reminds us "this is the true joy in life, the being used for a purpose recognized by yourself as a mighty one; the being a force of nature instead of a feverish, selfish little clod of ailments and grievances complaining that the world will not devote itself to making you happy."
If you don't care about people, do yourself and your organization a favor and get out of management. I say this with absolutely no disrespect to anyone. Just be honest with yourself. If you don't have any desire to bring humanity and caring to your job, if dealing with people is too stressful, save yourself a heart attack and other people a lot of heartache and step down from the arduous job of management.
https://davidirvine.com/wp-content/uploads/2016/01/humanizing_our_workplace-690x450.jpg
450
690
Administration
https://davidirvine.com/wp-content/uploads/2021/06/davidirvinelogo_2021.png
Administration
2016-01-15 22:32:11
2016-01-21 10:17:25
Humanizing Our Workplace: Leading With Care Rather Than Fear