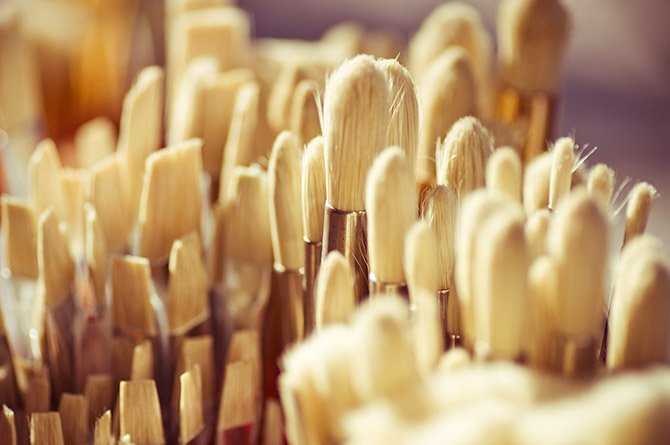 Self Leadership – Leading As A Work Of Art
"One's self is at the base of everything. Every action is a manifestation of the self. A person who doesn't know himself can do nothing for others." ~ Eiji Yoshikawa
Understanding leadership from the perspective of techniques and tools is like trying to appreciate a painting by analyzing the strokes or the brush of the painter. It might be interesting, but it doesn't get to the essence of the painting or the substance of the painter.
You don't become a painter by putting on a painter's beret and sitting at behind an easel. You become a painter through years of disciplined action, attentive observation, thorough study, and, above all, rigorous practice.
The life of a leader is akin to the life of an artist. It's not a destination to be achieved; it's a journey, a continual work in progress, a life to be embraced. Of course there are techniques to be learned and tools to be developed along the way, but it ultimately comes down to one's self, the essence of who you bring to the work.
To transform others and the world around you involves staying engaged in your own transformational work. You cannot guide others where you have not been. You earn credibility as a transformational leader by investing and engaging in your own transformational journey. Following are some disciplines for strengthening your leadership presence, your capacity to inspire and influence others through your presence:
Set out on adventures.
These could be external adventures, like taking up a new sport or instrument, climbing a mountain or starting a new career. They could also be more of an internal nature like getting through a divorce, facing an addiction, or becoming a new parent. What have you done recently where you are a "novice?" Where have you traveled to unfamiliar territory? Adventures build internal resources, compassion for others, and confidence.
Embrace challenges.
People of strong leadership presence, what some refer to as character, find a special attractiveness in difficulty, since it is only by coming to terms with difficulty that they can realize their potential. Victims and those with entitlement mind-sets never inspire anyone. Welcoming challenges as opportunities to grow give you the self-leadership courage and clarity needed to lead others.
Embrace the darker side(s) of your nature.
We all have a darker side living below what we show to the world. If we do not bring to the surface and face the this part of us that we may be unaware of, or blind to, it will bring pain to ourselves and/or others. Within this shadow side of our nature lies immense creativity, wisdom, and interconnection. Transformational leaders make room for this dark side of themselves and of the systems they lead, recognizing it for what it is: a natural part of the larger system. What worries you? What makes you anxious? What upsets you? What gives you a strong negative emotional reaction? Name it. Claim it. Learn from it. Experience what you are avoiding.
Make room for reflection and stillness.
Self-leadership, developing a stronger, more influential presence, means making time for daily solitude, silence, and the space to attend to the voice within. Spend time in nature. Create a sanctuary in your life, a place where you can get away from life's demands and listen to the wisdom of stillness. Take time for rest, renewal, and refection in periods of months, weeks, days, or even five minutes at the beginning of a day. If you are only following the voices of the crowd around you, you aren't leading; you are merely managing.
Build a community around you.
Who are your friends, people in your life you can be wholly yourself with, who will support you to be true to your inner voice, help you foster and express your gifts, your unique talents; people who will not be afraid to tell you the truth? Who leads you to your authentic voice? Who supports you? Who holds you accountable? How would you describe your community?
Be willing to stand alone.
Leadership means being willing to stand apart in order to impart. You can't lead by being part of the crowd. Leadership is, at times, lonely. If you haven't felt lonely as a leader, you haven't gone far enough in your development.
How would you describe a "personal transformation" you have experienced in the past 1-2 years? How has your own transformational journey made you a more credible leader?  I'd love to hear from you.
https://davidirvine.com/wp-content/uploads/2016/01/self_leadership_art1.jpg
445
670
Administration
https://davidirvine.com/wp-content/uploads/2021/06/davidirvinelogo_2021.png
Administration
2014-01-24 11:44:13
2016-01-21 10:42:50
Self Leadership – Leading As A Work Of Art