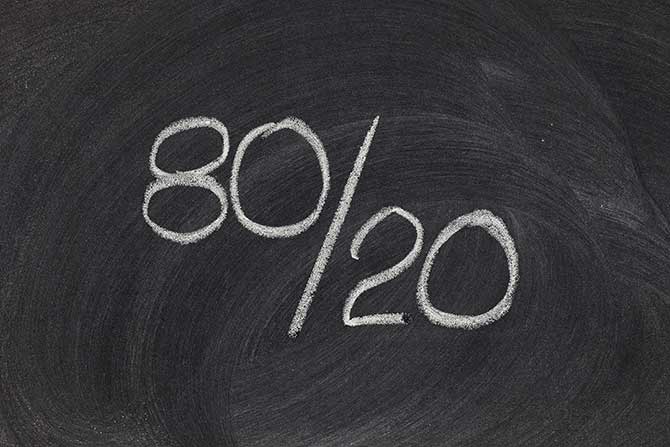 The 80/20 Rule of Leadership
There's an old leadership theory of human behavior called the 80/20 rule, which states that 20% of the people in an organization produce about 80% of the results, while 80% produce about 20% of the results. If you manage sales people or volunteers or a team of employees where you expect results, then you are likely to find that these numbers – give or take 10% or so – to be accurate. In terms of the culture, about 20% if the employees create about 80% of the culture, and visa versa. This can happen at any level. I have seen front line service people, passionate about their work and about service, have a greater impact on the culture than a senior executive. The pull will always be toward the group or the individuals who are underachieving by your standards, or to attempt to change the ratio to prove to yourself that you can be a leader who can get the same results from all of your employees or volunteers.
What I've learned is not to mess too much with the ratio. It seems to be human nature. Even if you go and fire the 80% I'd bet that you will find that 80% of the remaining group will drift into being the under-performing group.
Rather than change the ratio, I've learned an important leadership principle to respond to the 80/20 rule: be conscious of spending 80% of your time with the 20% of the result producers, and 20% of your time with the under performers. Remember: the pull will always be toward to people who complain the most and who produce the least, so be careful not to get drained by the energy of this group. Your "top 20%," on the other hand, are what I call your "critical employees," the people who ultimately keep the organization running, the leaders (who may or may not have a title) at every level. Keep your primary focus on these people. Make sure they are recognized, supported, and duly rewarded, because they are critical to your future.
I was recently facilitating a leadership development program with a group of managers who run laboratories in our health care system. This was a group of scientists developing the people skills for building a strong organizational culture. As I drew white dots on a slide of an organizational chart representing these "critical employees," a manager jumped up and said, "I know what those white dots are.They are the white blood cells, the cells of the immune system that defend the body against both infectious disease and foreign materials." These cells, called Leukocytes, are found throughout the body, making up about 1% of the blood of a healthy person. We all concluded that, considering that the body only needs about 1% of its blood to fight off toxic substances in the body, leaders are fortunate that they have 20% of their employees to develop a healthy organizational immune system. If you want a healthy, vibrant workplace, take good care of your organizational immune system.
On another note, while thinking about white blood cells and immune systems, I came across the best article I have read yet on the fear of the H1N1 flu that is sweeping across our country. This article, was written by a good friend of mine, Brooks Tower, who is not a medical person, but he is a thoughtful person. While we all have to be concerned and take whatever precautions we can to do our part to prevent the spread of any kind of virus, reading this article may give you a new perspective on H1N1.
https://davidirvine.com/wp-content/uploads/2016/01/80_20_rule_leadership.jpg
447
670
Administration
https://davidirvine.com/wp-content/uploads/2021/06/davidirvinelogo_2021.png
Administration
2014-04-22 20:07:56
2016-01-21 10:35:17
The 80/20 Rule of Leadership