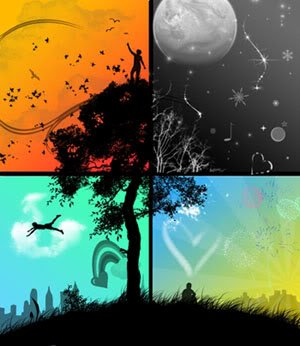 THE SEASONS OF LIFE: The Art of The Long View
There was a man who had four sons. He wanted his sons to learn to live without judgement, so he sent them each on a quest to go and look at a pear tree that was a great distance away.The first son went in the winter, the second in the spring, the third in summer, and the youngest in the fall.After they had all gone and returned, he called them together to describe what they had seen.The first son said that the tree was ugly, bent, and twisted.The second son said it was covered with green buds and full of promise.The third son disagreed. He said it was laden with blossoms that smelled so sweet and looked so beautiful, it was the most graceful thing he had ever seen.The last son disagreed with all of them. He said it was ripe and drooping with fruit, full of life and fulfillment. The man then explained to his sons that they were all right, because they had each seen but one season in the tree's life.
Inspired by my late mentor, Jim Rohn, below are five lessons I've learned about living and leading through the seasons of life.
Lesson #1. Don't judge a person by a season. It is good practice to suspend the assumptions we hold of ourselves and others, and instead view life beyond a single season. You don't want to judge a tree or a person or a life by only one time of year. The essence of who we are – and the pleasure, joy, and love that come from that life – can only be measured when all the seasons have been lived. Life and business are like the changing seasons. You can't change the seasons, but you can change yourself.
Lesson #2. Learn how to handle the winters. After the fulfillment of the harvest, winter befalls us. Some winters are long, some are short, some are difficult, some are easy, but they always come. There are all kinds of winters – the winter of confusion, the winter of grief and loss, the winter of hibernation, the winter of failure. There are economic winters, social winters, and personal winters when your heart is broken. Winter can bring disappointment, and disappointment is common to all of us. Winter, whether it lasts for days or months, is a time for reflection, renewal, and learning.
You learn to face the demands of winter when you learn to handle difficulty. Problems always arise after opportunity. You must learn to handle recessions; they come right after expansions. That isn't going to change. You can't get rid of January simply by tearing it off the calendar. But what you can do is get stronger, get wiser, and get better. Make a note of that trio of words: stronger, wiser, better. The winters won't change, but you can. Jim Rohn said that when things get difficult, don't wish for things to be easy. Instead, wish you were better. Don't wish for fewer problems; wish for more capacity. Don't wish for less challenge, wish for more wisdom. If you give up when it's winter, you will miss the promise of your spring, the beauty of your summer, and the fulfillment of your fall.
Lesson #3. Learn how to take advantage of the spring. As night follows day, winter will inevitably give way to spring. Spring is opportunity. Opportunity follows difficulty. Expansion follows recession. And you can count on it. However, the mere arrival of spring doesn't mean that things are going to look good in the fall. According to Mr. Rohn, everyone has to get good at one of two things: planting in the spring or begging in the fall. So, learn how to take advantage of the spring, your opportunities. There aren't many springs in life. Life is brief, even at its longest. Whatever you are going to do with your life, get at it. Don't just let the seasons pass by.
Lesson #4. Be present to life. Summer teaches us not to be so busy building toward the future of the fall harvest that you miss being present to the beauty that surrounds you now. It is in the present where life is lived, not once we achieve some future goal that will propel us into yet another objective down the road. A gardener will tell you that as soon as you've planted, the busy bugs and noxious weeds are out to take things over. Planting in the spring is followed by preparing for the summer's insects and drought or flood or even late frost if you live in Canada. Every garden must be tended all summer to realize the fall's harvest. What's important is to not miss the beauty and joy of the present moment, the only time when these can be realized.
Lesson #5. Learn how to reap in the fall with gratitude. Take full responsibility for what happens to you. One of the highest forms of human maturity is accepting full responsibility. Learn how to reap in the fall without apology if you have done well, and without complaint if you have not. Enjoy the fruits of your labor and the joy and fulfillment of your harvest. Be present to and grateful for the abundance that life brings through your efforts. I'm not saying it's the easy way. I'm saying is it's the better way.
The seasons don't work for you or against you. They just are what they are. They are guaranteed to come every year, bringing both the challenges and the opportunities. Remember the five lessons in life, whether you cycle through the seasons in a matter of days or a matter of months. Prepare for them and make the most of everything that each season offers.
https://davidirvine.com/wp-content/uploads/2018/06/Four_Seasons_by_spudzalot.jpg
346
300
Administration
https://davidirvine.com/wp-content/uploads/2021/06/davidirvinelogo_2021.png
Administration
2018-06-11 14:33:52
2018-06-11 14:33:52
THE SEASONS OF LIFE: The Art of The Long View