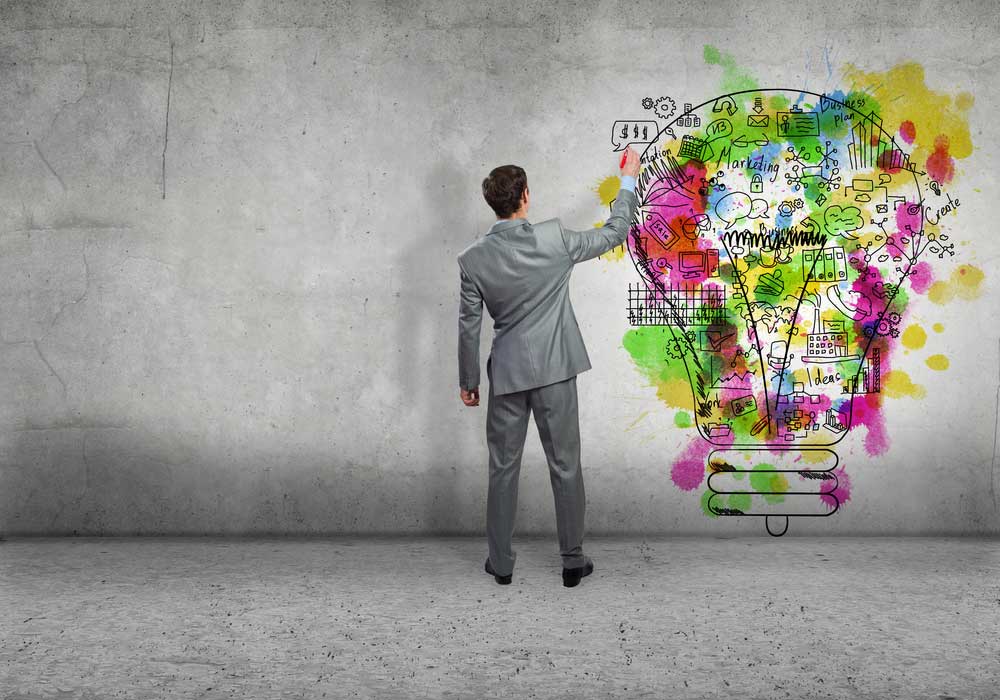 5 Steps to Creative Leadership
Creative leadership is a mindset and a process you need to implement on a daily basis. Creative leadership can help stop you from slipping into a mundane  routine and it can challenge you and your organization to explore exciting possibilities. Just like business magnate Donald Trump, finding your creative edge can lead to the best business and leadership decisions.
For a leader seeking the best opportunities, creative leadership techniques allow you to initiate successful endeavors. It's more about positioning yourself to think correctly so that you can find new ways of being a leader.
Here are five steps for you to begin implementing creative leadership in your life, along with some tips from Trump himself.
1 – Meditate each day.
Start with meditation. Just 15 minutes a day of conditioning yourself to be quiet can start your imagination flowing. Think about things as they are – not as they were or as they might be in the future—and allow your mind to expand and explore. It is in this exploration exercise that you can begin to open yourself to something new on the horizon.
Creative leadership through meditation enables new methods, new ideas and new processes. Meditation helps you to think differently, to approach problems from a different perspective. Trying something new just for the heck of it is dangerous, but using mediation allows you to sort out the junk from the treasure. For a creative leader, something new may be just what you are seeking.
Trump Tip – "It's the great business person that can decide between practicality and creativity.  You have to be able to strike a balance.  If you don't strike a balance, it's not going to work."  – Donald Trump about creative leadership
2- Exercise your skills as a visionary.
Within you lies the ability to construct the future long before you ever arrive physically. Challenge yourself to see beyond what is currently in front of you. Creative leadership needs vision to help direct ideas to their best use.
This does not necessarily mean looking for something on the horizon that you have never seen before. Instead, you might want to look at something old in a brand new way. You can do an excellent job of constructing your vision of the future based only on materials, skills and attributes present in your current reality.
Visionary leaders tend to think more about where they want to end up rather than the path to get there. Using creative leadership ideas with your vision gives you many paths to reach that vision.
Trump Tip – "A good leader has to be able to recognize the strengths and weaknesses of employees.  A leader has to be able to see who is really strong – where, and if they don't do it, it's not going to work out very well for that leader or for that company."  – Donald Trump about creative leadership
3 – Look beyond your own circle of peers.
It's natural to surround yourself with people that are like you, but consider expanding your network of reference. This will broaden your horizons and challenge your thought processes. Individuals not in your field of expertise may be just the ones to propel you toward your future.
Branching your creative leadership out to new people gets perspective from multiple views. However, you aren't really looking for confirmation of your ideas in a new circle. Instead you are looking for people with different experiences – people who approach tasks with varied mindsets.
Creative leadership is fuelled from finding more than the standard methods of leading. If you are a group effective leader, look for sharing ideas with thorough leaders who get it done and vice-versa. If you are a forceful leader, try exploring how persuasive leaders put feelings before tasks and vice-versa. Finding people outside your regular circle enables a larger scope for creative thinking.
Trump Tip – "In business it's important to adapt.  If you don't adapt, you're never going to be good in business and you're never going to be successful.  Show flexibility.  Be able to make a change."  – Donald Trump about creative leadership
4 – Lead by example.
No matter where you find yourself in the hierarchy of the organization, the opportunity is yours to be creative. Once you have a vision of your desired future, step out of your everyday routine and begin planning how to bring it about. Your creative leadership will garner attention and inspire others to set their sights on the future.
Creative leadership by example, enables others to find new areas of expressing themselves, if you lead them to that approach first.
Trump Tip – "Leadership is very important in business.  You have to inspire your staff.  You have to really make them respect you.  People like working for the Trump Organization because I make it fun.  I make life interesting.  It's always different.  It's always exciting."  – Donald Trump on creative leadership
5 – Deal with conflict.
There might be those who don't agree with your vision of the future. Dealing with conflict can be difficult. However, if you implement creative leadership skills, you can bring about a positive outcome. One of the most important things to remember is to focus on similarities first. Look at what it is that both parties desire and focus on the good points of each side. From this vantage point, it will be easier to understand the other person's point of view.
Most leaders have to deal with conflict all the time, internally with employees and externally with clients. Tapping your creative leadership helps you bring the other side's perspective of the conflict into consideration. Practice coercing others not by force, but by thinking outside of your box, putting yourself in their shoes and finding common ground.
Trump Tip – "Getting along with people is very important to success.  If you're not going to get along with people you may be successful, but it's going to be a lot harder"  – Donald Trump about creative leadership
The picture has been painted in your mind. It's your dream; make it come true. Creative leadership starts with you stepping out of your comfort zone – whether you are Donald Trump or Jane Doe, it's something you can make happen.
https://davidirvine.com/wp-content/uploads/2016/01/creative_leadership.jpg
700
1000
Administration
https://davidirvine.com/wp-content/uploads/2021/06/davidirvinelogo_2021.png
Administration
2015-07-15 17:37:19
2016-01-25 17:42:58
5 Steps to Creative Leadership