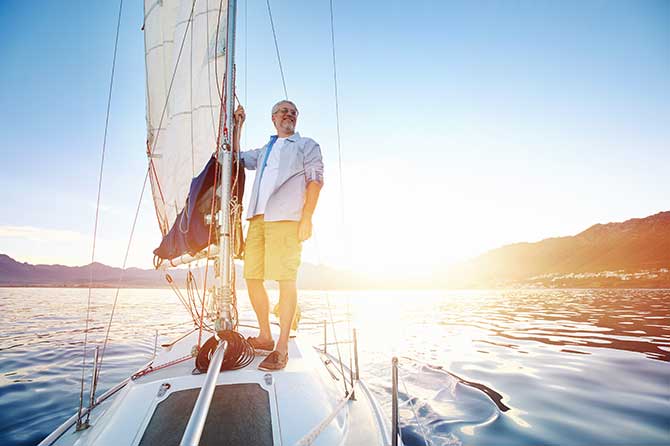 Adventure With An Astrocytoma: How Illness Affects Impact
Leadership requires the ability to see, sense, and realize new possibilities – in ourselves, our institutions and organizations, and in society. But where does the capacity to see these hidden possibilities come from? Where does the ability to see beauty – in a flower, an expression of art, or a human being – originate? Where do we derive the ability to see the potential in people? Where does loving and embracing life come from? Where does the realization of possibilities originate? It comes, in part, from knowing that nothing is permanent. Would we see the beauty in a flower, sunset, or human being if they lasted forever?
Last November, my sixty-one year-old brother, Hal, was in Vancouver to receive the award for Alberta's Outstanding Family Physician. Three days before the award ceremony he had a seizure and a few days later came the grave diagnosis: a grade III Anaplastic Astrocytoma – an aggressive, inoperable tumor intersecting three lobes of his brain. The prognosis was grim. With no treatment, he would live an estimated three-four months; with aggressive radiation and chemotherapy, one-three years, and with a miracle, longer.
For the past six months I have traveled with Hal through what he has been calling his "Adventure with an Astrocytoma." This so called 'adventure' is a grinding mix of aggressive radiation and chemotherapy treatments, with accompanying aphasia, memory loss, itching rashes, seizures, headaches, nausea, diarrhea, and so little energy that putting his feet on the floor in the morning can be called success. Hal's limbs are getting skinny and his belly is growing from the steroids that prevent brain swelling. While the medication experimentation continues, the days when he is able to get himself outside into the sunlight and around the block is a 'Mount Everest' accomplishment. From his most recent MRI, we see that the tumor is presently stable, meaning the chemo and radiation have stopped its growth, at least for now. This is good news and beyond what was originally expected for this point in his treatment.
While I wouldn't wish this hell on anyone, I am surprisingly grateful. Hal and I have spent more time together in the past six months than we have the previous twenty years. We've done some reminiscing; we've said "thank you" and have forgiven each other. Every time that we are together, we now say that we love each other. And we make time to hang out when he simply can't get out of bed, can't utter a word, and I have no clue what to say. This whole imperfect and human experience of being together in an awkward and clumsy way has somehow been a blessing. This reminder of the impermanence of life has strangely increased my life's quality. My marriage and my relationships with my daughters have improved as I've slowed down and made a little more room to be a bit more present a little more often with those that matter most to me. Being open to the pain of Hal's experience has deepened my experience of being alive, what matters in life, and what it means, more fully, to be human.
Below are six lessons I have learned thus far on this adventure with my brother and his astrocytoma:
Don't procrastinate getting to your bucket list. If you have some things you are planning to do when you retire, don't wait. Do it now. The preciousness of life is not realized in the future. It is realized only in the present. There is no guarantee that the future will meet your current expectations.
Take time to connect. Life is impermanent. Every relationship as you know it today eventually ends. Don't wait for the end to be near to appreciate what is here now. Besides, we never know how abrupt and unplanned that ending can come. You really don't know what you've got till it's gone. Don't miss opportunities to be present to the people around you.
Embrace the realization of life's impermanence. The older you get, the more opportunities arise to be with people who are in the sunset of their life. Be with people when they are dying whenever you can. Embrace the experience of dying along with the pain, and your life, and the lives of those still around you, will be enriched.
Take regular sabbaticals. In today's world, with its relentless focus on success and productivity, we have lost touch with the balance between work and rest. Constantly striving, so many of us feel exhausted and deprived in the midst of abundance. Carve out regular time each week for rest, renewal, time with friends and family, and a few moments for yourself.
Take care of your health. Don't take your health for granted. Good health is a source of wealth. Being free of pain is one of life's most vital blessings. While you can't necessarily control your health, you can certainly influence it – with good habits. Later life will test your disciplines.
Renew your spiritual strength. Times of loss afford us immense opportunities to renew, strengthen, and deepen our own personal and individual experience of spirituality. Take time each day to commune with nature and witness the intelligence within every living thing. Spend time in a sanctuary away from the demands of the world. Sit silently and watch a sunset, or listen to the sound of the ocean or a steam, or simply smell the scent of a flower.
The reminder of impermanence awakens you. The awareness of death magnifies what's important in your life. Remember to stop and embrace fully that which surrounds you. The life you have today won't last forever, and remembering this will help you appreciate and grasp it more deeply. And in turn, you will amplify your impact while enriching and nourishing the lives of those you lead and enlarge. There is no better personal or leadership development than coming to terms with your humanity.
https://davidirvine.com/wp-content/uploads/2016/01/how_illness_affects_impact.jpg
446
670
Administration
https://davidirvine.com/wp-content/uploads/2021/06/davidirvinelogo_2021.png
Administration
2014-06-27 10:13:11
2016-01-21 10:30:05
Adventure With An Astrocytoma: How Illness Affects Impact