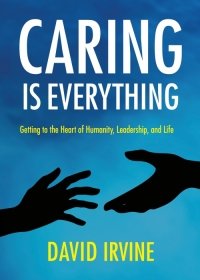 CARING LEADERSHIP – The Undervalued Virtue of Human Touch
"Whether at home, at work, or at play, the human heart seeks to be known, understood, and connected. If you do not connect, the ones you care about will find someone who will."
Dr. Henry Cloud
In 1980, when I was in graduate school, I was inspired by a study from Ohio State University where researchers were studying heart disease in rabbits. Rabbits were fed diets extremely high in cholesterol and, to the scientists' amazement, one group did not get high cholesterol levels despite being given the same diet. They found that the only difference between these rabbits and the ones who developed atherosclerosis was the technician feeding them. Instead of throwing feed at them, he took them out of their cages to pet them, cuddle them, and kiss them. He would sing and speak to them. The researchers discovered that this touching resulted in a change in the peptides and neuro-peptides and they would, in fact, shunt the cholesterol into a different metabolic pathway, so they did not get heart disease, even though they were consuming diets that were high in cholesterol.
Countless studies since then have shown that health is impacted by being close and connected with other people, a sense of belonging, and whether we can give and receive love, care, and support. Caring actions impact the lives of those around us. Authentic leadership requires an ability to communicate caring to others. I suggest the following ways to start:
1) Disconnect to connect. Put down your devices. Pay attention and take the time to listen to what matters to people. There has never been a generation so riveted with mental health challenges and so starved for nurturing relationships. Devices have become substitutes for the more constant real human contact that parents used to provide when they worked near home or on the farm. These electronic sources of entertainment are also used as replacements for the sense of community formerly provided by large extended families or the clan, tribe, or village.
2) Attune to the emotions of others. Attunement means being "in tune" with another's emotional state. Attunement is the language of caring. The quality of a relationship is measured, in large part, by one's ability to be present with each other in such a way that the other feels understood, valued, and accepted. Attuning to others can be as simple as acknowledging their frustrations, their fears, or their enjoyment. One of the ways that our ability to attune to others gets impaired is when we approach the interaction with a belief that we have to "fix" the emotions that arise. People primarily need to be listened to and acknowledged. There is a time for problem solving, but not when people are in an emotional state.
3) Stay in love. There lies within every person a place where, when connected to it, we feel deeply and intensely alive; a place that says, "This is the real me." Staying in love means staying connected to that place, then bringing more of that passion to what we do. It means letting go of resentments, valuing life and surrounding yourself with life-giving people. Staying in love means focusing on what we have in common rather than what divides us; underscoring our shared humanity, that which unites us. Staying in love means staying in love with life, thus igniting the fire in others.
From my mother's library I inherited The Art of Loving by Eric Fromm. The lessons in it are classic: Learning to love and express caring, like learning to be authentic, is not easy. It requires concentration, solitude, thought, knowledge of one's self, listening, living in the present, and patience.
Above all, to lead is to make learning to care your supreme concern.
"Don't ask what the world needs. Ask what makes you come alive, because what the world needs is for you to come alive."
Howard Thurman
https://davidirvine.com/wp-content/uploads/2019/06/David_Irivine_Hard_Cover_Book_sleeve_final_edits3-e1559581102351.jpg
280
200
Administration
https://davidirvine.com/wp-content/uploads/2021/06/davidirvinelogo_2021.png
Administration
2019-06-03 11:00:54
2019-06-03 11:00:54
CARING LEADERSHIP – The Undervalued Virtue of Human Touch