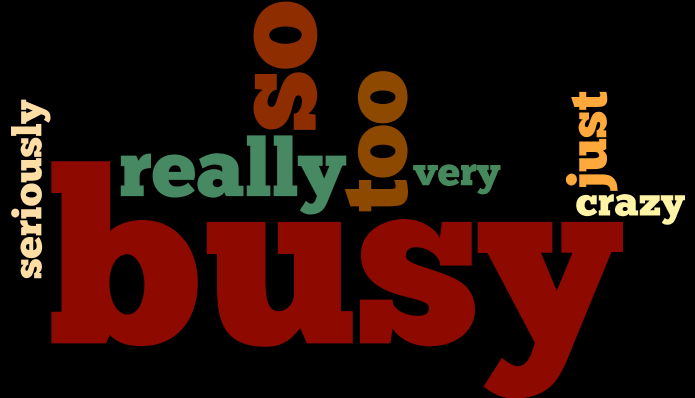 LEADERSHIP AMIDST THE TYRANNY OF ADMINISTRATIVE MINUTIA
"Being busy does not always mean real work. The object of all work is production or accomplishment and to either of these ends there must be forethought, system, planning, intelligence, and honest purpose, as well as perspiration. Seeming to do is not doing."   – Thomas A. Edison
A good friend and long-time client called me the other day and asked me how I am.
I responded with, "Busy," which is my default response when I don't have the where-with-all to be honest. But Vincent isn't one to let me off the hook and wouldn't let me get away with a lazy answer. That's what I value about our friendship. It's real. There's an expectation of honesty. He has a low tolerance for superficiality.
So he responded, "Is it a good busy?"
The question made me stop and think. "How do you know if your 'busy' is 'good' or not?"
He elaborated, "What have you done today that has brought you joy? How is your energy? What drains you? What fulfills you? What tires you? What animates you?"
As an executive director at a university in South Central United States, Vincent started talking about the "administrative minutia" that comes with every leadership responsibility – the paper work, the proposals, the budgets, the demands, the fires you have to put out – the day-to-day grind that will wear you down and wear you out if you aren't careful.
I came out of that conversation with Vincent with four things you have to attend to every day in order to survive and thrive in the midst of administrative minutia.
1. MAKE TIME TO THINK. You never want to be so busy doing that you don't have time to think about what you are doing. Peter Drucker, the great management expert said it well: "There is nothing so useless as doing something efficiently that which should not be done at all." The best leaders I know take time – if not daily, at least on a weekly basis,  – to think about what matters, what's important, and what needs saying no to. Remember: every time you say yes to something that is unimportant, you so no to something that is important.
2. MAKE TIME TO GET ON THE BENCH. All hockey coaches know that the game is more than performance on the ice. It's also about good bench management. Players simply can't go full speed for much longer than about 45 seconds. While you have to stay focused and alert on the bench, you also have to take a good rest while you're there. Human beings are not meant to go full out without periodic rest. While you don't want to spend all day on the bench, what do you do every day to get away from the busyness and unplug from it all? What are you doing today to get on the bench? Whether it's a good rest over the lunch hour or a five minute rest every hour or so, we all need to regularly get on the bench.
3. MAKE TIME FOR JOY. Yes, I know we need to stop complaining about the work we have to do at work. Work is called work for a reason. You don't come to work to play. You get paid to work at work. And we could all use a little better attitude toward our work and find a little more gratitude and a little more joy in whatever we do. But you also spend a lot of your life at this thing called work, so you want to push aside that pile on your desk and make a little room for something that brings you joy. Joy is the intersection of passion and service to others. Find something you are passionate about and negotiate for ways that intersect your passion with an opportunity to make a difference. At minimum, find something that brings you joy away from work, something that you play at, so when you go to work you can be grateful that it provides opportunities for joy elsewhere.
4. MAKE TIME TO CARE. Caring produces energy. When you intentionally and consciously take the time to care – about the work you are doing, the project you are engaged in, the colleague down the hall who needs a little encouragement, or the difference you are making – notice how it breathes new life into your days. When you s-l-o-w d-o-w-n for even a brief moment to be kind to someone, listen to someone, to be present, and put extra care into the work you are doing, notice how "busyness" can turn into contentment. Mother Teresa said that, "Not all of us can do great things. But we can do small things with great love." It's simple caring that makes our workplace worth working in and our lives worth living.
These strategies don't replace hard work, effort, or results. But when integrated into a busy life you come home at the end of the day a little more satisfied, a little more fulfilled, a little more focused on what's important, and a little less depleted. We're all busy, but is your busy a "good" busy?
https://davidirvine.com/wp-content/uploads/2017/05/AAEAAQAAAAAAAANeAAAAJGMxNDBkZTkwLTNiMWUtNGFjZi04MDQ1LTYzYTQ1NDIzMWI4Zg.png
398
695
Administration
https://davidirvine.com/wp-content/uploads/2021/06/davidirvinelogo_2021.png
Administration
2017-05-26 15:03:55
2017-05-26 15:03:55
LEADERSHIP AMIDST THE TYRANNY OF ADMINISTRATIVE MINUTIA