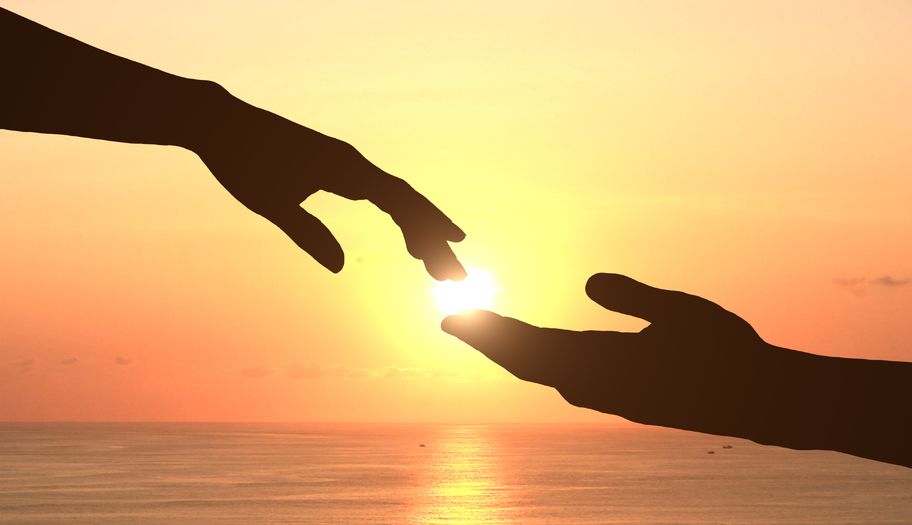 The other day a flight attendant asked me if I was connecting. This is a good question to ask yourself every so often. "Are you connecting?"
Life depends on connections, and the quality of your life depends on the quality of your connections. Every system depends on connections. Circulatory systems, nervous systems, organizational systems, ecosystems, family systems. Connection is to relationship what breathing is to life. If you can't make a connection, not much else matters.
While we all, at some level, understand the importance of connection in our lives, what exactly does it mean to be connected? Like beauty, it's hard to describe, but you know when it's there. There's a difference between communicating and being connected. "Everyone communicates," writes the leadership guru John Maxwell, "but very few people connect." Today, with all of the high-tech tools such as email, text messaging, Linkedin, Facebook, and Twitter, we are certainly in better contact with each other, but are we better connected? High tech requires an equal high touch. With all this capacity to be in contact are we actually making contact? In this high tech, so-called "connected" world, do we feel more loved; more supported; or more at peace with others and ourselves? Do we live with a stronger sense of community? You can't fully connect without looking a person in the eyes, hearing their voice, reaching their hearts, and knowing them as unique people with needs, values, and dreams. Technology is a great tool to stay connected; it's not such a good tool to get connected.
Connections have a life of their own. You can actually stifle connections like you can a living organism, or you can breathe life into them.
Here are some conditions for connections to flourish:
Focus: Identify the 'significant seven' stakeholders in your personal and professional life. A stakeholder is a person who depends on you or upon whom you depend. You will have a list of 'significant seven' in both your personal and your professional life. Take an honest inventory of how connected you are with these people and how much personal investment is needed at this time. Don't confuse peripheral relationships with significant relationships. Think about who will be with you at your deathbed.
Understanding: Your goal in connecting is understanding, not necessarily agreement. Connection isn't the same as agreement. You can agree without connecting, just as you can connect without agreement. What are you doing to really listen to the people in your life? Empathy is a critically important aspect in connecting. To see a quick review of empathy take a few moments to look at a three minute video with the words of Brené Brown: www.youtube.com/watch?v=1Evwgu369Jw
Accountability: Take accountability for your own emotions, reactions, and needs – in all your relationships. See all blame as a waste of time.  Ownership breeds openness. Take a careful inventory of yourself: Are you a person who can be counted on? Do people experience you as accountable? Do you take 100% responsibility for your life? Have you stopped hiding behind such statements as, "They need to listen better"? No, they don't have to listen better; you need to communicate better. Nobody but you cares about the reason you let someone down.
Disconnect: You have to disconnect to connect. Turn off your devices at times during the day. Leave your cell phone in a drawer when you are with the important people in your life. Disconnect to connect. Create time and space to be together without interruptions. I find it interesting that in our society, the value of pets – who cannot use technology yet are completely present -is increasing along with the value we place on technology.
Rituals: Regularly scheduled dates, breakfasts, teas, and uninterrupted, unstructured time to hang out and just be with the important people in your life all allow connections to grow. Don't worry about making it "quality" time. Sometimes it's quality; sometimes it isn't. Just be sure it is time. Connection is a four-letter word: t-i-m-e. If you want to know how your connections are, look at what is scheduled in your planner.
Be Vulnerable: Develop a habit of sharing your challenges, your fears, your dreams, or your insecurities with the important people in your life. Connections strengthen with vulnerability by sharing what is going on in your life. Conversations are the path to connection. But remember, connection doesn't have to be big or dramatic. It simply has to be consistent and honest.
Presence: Listen carefully as you feel with people. What are their dreams? What matters to them? Don't just deal with people. Feel with people. Before you can touch a person's heart, you have to know what's in it. The best present you can ever give another person is to be present in the present.
Slow down: Slow down in order to focus on the people you meet. Practice walking through crowds slowly. Whether clients, customers, or colleagues, take a few minutes to stop and listen. Everyone has needs, values, and dreams, and people generally like to talk about themselves. Focus on being interested rather than being interesting. I learned from my daughter who taking a course in agriculture that the most valuable tool on a farm is a five-gallon pail. Turn it upside down, sit on it, and observe the animals.
Tune in. Listen for messages that people send without talking. Words aren't the only way to connect. We communicate with our eyes, our body language, our unspoken messages. Practice tuning in by spending time in nature or with animals. Once again, you have to slow down to tune in.
Authenticity: Make time to reflect and connect with the voice inside of you. You can't connect fully unless you have a good sense of self-worth that comes from being true to yourself – in the service of others. As you live in accord with your values, your self-respect grows, and connections with others strengthens. Connection with others begins with a connection to yourself.
https://davidirvine.com/wp-content/uploads/2016/03/20095195_m.jpg
525
912
Administration
https://davidirvine.com/wp-content/uploads/2021/06/davidirvinelogo_2021.png
Administration
2016-03-10 09:25:37
2016-03-10 09:25:37
Are You Connecting?