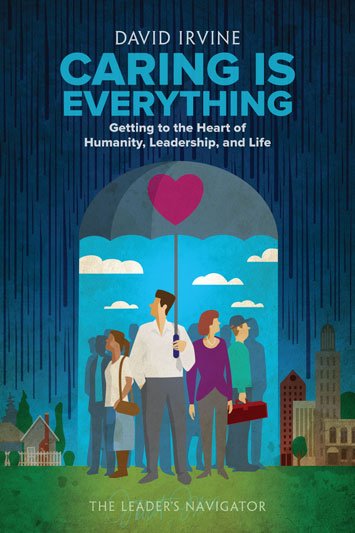 Caring Is Everything: Getting To The Heart Of Humanity, Leadership, And Life
After three years of pouring my heart and soul into another publication project, I am thrilled to announce that my most recent book, Caring Is Everything: Getting To The Heart Of Humanity, Leadership, And Life has been released. This project was inspired by and dedicated to my brother Hal, who, three years ago, was diagnosed with an inoperable brain tumor.
Facing death squarely and honestly magnifies what matters most in life. Paradoxically, the realization that the life we have today won't last forever enables us to appreciate and grasp it more deeply. During the Middle Ages, Christian monks greeted one another with the salutation memento mori. It means "remember you must die." Thus, with every encounter, the monks reminded themselves and each other about the impermanence of life and the precious value of each moment.
My purpose for writing books has always been to learn. The seeds of this book were planted early in Hal's journey, when I decided to take on what I have since called my "caring project," a vision to learn all I can about the nature of caring, the variety of dimensions that it takes in one's life, and the impact it makes in all aspects of our lives. When I wrote this book my intent was not to change the world with a message about caring, but simply to write, in the words of Wordsworth, from the "breathings of my heart." I really just wanted to leave a legacy for my daughters and grandchildren about what I learned – and have come to believe – about the power and impact of caring in all aspects of my life. If my children and grandchildren found value in it, that was good enough for me. What happened however, is that within those "breathings of my heart" was born a vision to start a national conversation about the power of caring.
This book is an investigation into a simple but profound idea: caring is everything. The stories within shine a light on the many dimensions of caring that so often go unnoticed and unacknowledged, but are vital to organizations, relationships, and life itself. This book is for leaders at all levels of organizations and in all walks of life, health care workers, educators, coaches and mentors, family and community members, and, really, pretty much anyone who wants to offer or receive caring.
At a crucial time in human history, when countless individuals are met with violence, terrorism, and a disregard for human life, when politicians use fear to appeal to the darkest side of humanity, when so many of us are afraid, cynical, or over-committed, the need to meet these trends with caring has never been greater. Caring, the most noble of human journeys, has a pervasive, enduring influence on the wellbeing of ourselves and those around us. It permeates who we are as people, and the places where we work and live. Caring is everything.
I have put my heart and soul into this book like none other I have written. And I am proud to bring it to the world. The official launch of Caring Is Everything takes place in three locations and I invite you to join me in the celebration at any of these events:
Calgary:  November 8th, 6 – 8 PM
                 Memorial Park Library 1221 2 St SW, Calgary
Cochrane:  November 12th 2 – 4 PM
                    Legacy Guitar & Coffee Shop 214 1 St W, Cochrane
Edmonton: November 15th 6 – 8 PM
                     Audrey's Books 10702 Jasper Ave, Edmonton
https://davidirvine.com/wp-content/uploads/2016/10/Caring-Is-Everything.jpg
533
355
Administration
https://davidirvine.com/wp-content/uploads/2021/06/davidirvinelogo_2021.png
Administration
2016-10-26 11:10:50
2016-10-27 15:04:26
Caring Is Everything: Getting To The Heart Of Humanity, Leadership, And Life