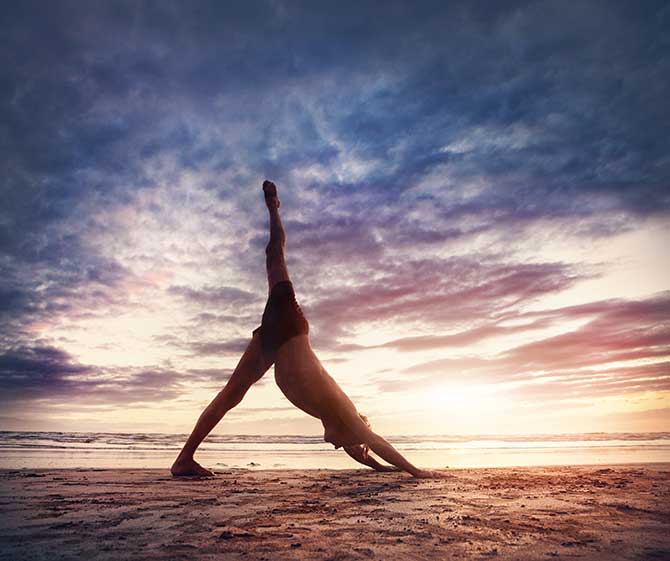 Finding Balance And Health In Your Culture: Wisdom From A Yogi
Did you ever have a bad day where everything seemed to go wrong? Although our tendency is to blame something in our external environment, it is the state of mind that you bring to your work or your life that determines whether the day is "bad" or "good". You can train your nervous system to be depressed or angry or pessimistic, just as you can train yourself to be hopeful, loving, and optimistic. That is, you can teach yourself to let life get you down or choose to use whatever life sends you to find a lesson that will move you forward.
The same is true with cultures. Have you ever been in an environment that is not as productive as it could be or living up to it's potential? How often have you been in an organization where you found that there is far more talent, brainpower, wisdom, and resourcefulness than the job required or even allowed? Just as people can be ruled by emotions, cultures can take on an emotive "state," because cultures are made up of people.
Culture is essentially an interplay of energy and yoga, the practice of moving into stillness and focusing your energy, can be instructive in understanding organizational culture. According to yoga there are three basic qualities or energies: rajas, tamas and sattva. Rajas is the energy of action, change and movement, while Tamasic energy is associated with a state of inactivity and inertia, heaviness and darkness. Sattva is light and uplifting and indicates a state of harmony and balance.
In order to find balance, we must start on a journey towards sattva. We do need rajas and tamas energy, but in their proper proportion and at their proper time. If we didn't have rajas we would not have energy to move towards sattva.  If we have only tamas, we become "lazy" and never get anything done. However, we all want more balance and harmony in our lives, both corporately and personally, so we must ingest more sattva both mentally and physically.
In Yoga, as in life, the greatest obstacle to our growth towards a state of sattva is the continuous fluctuations of our minds.  The mind is always busy and it can flow in two directions – upwards towards sattva or downwards towards negativity. Patanjali, a great yoga sage from 200 BC gives a simple method for turning to sattva. He says when negative thoughts are encountered we must immediately replace them with the opposite positive.  Simple, but not easy! This is a practice of the mind. It is hard work and takes practice!
This has many implications for corporate culture.  We must not entertain negative thinking.  Gossip, slanderous talk and negativity of any kind work to undermine a positive mental framework, and makes most of us ineffective and generally miserable. A first step, and something infinitely practical is to breathe. A simple practice of mindful, deep breathing can be performed in any office, anytime of the day, in any meeting, at any moment, and thankfully it can be instituted without scrutiny or negative consequence.
We all make a difference to the environments we live and work in. Having ways to connect with sattvic energy can be a way to positively impact those around you. A healthy, balanced culture starts with you.
Note: Thanks to Jeff Lichty, my Yoga teacher (www.ashtanga-yoga-victoria.com) for writing this article with me!
https://davidirvine.com/wp-content/uploads/2016/01/culture_yoga.jpg
561
670
Administration
https://davidirvine.com/wp-content/uploads/2021/06/davidirvinelogo_2021.png
Administration
2014-04-15 20:03:46
2016-01-21 10:35:57
Finding Balance And Health In Your Culture: Wisdom From A Yogi