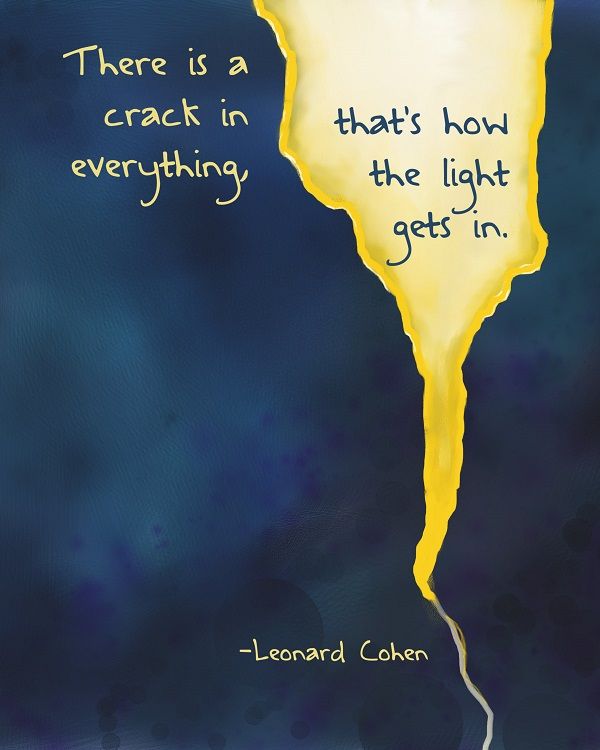 FORGET YOUR PERFECT OFFERING
Forget your perfect offering. There is a crack in everything. That's how the light gets in.
– Leonard Cohen
Every leader has cracks,  imperfections in their personality. Abraham Lincoln, Winston Churchill, Eleanor Roosevelt, Gandhi, John F Kennedy, Martin Luther King, Nelson Mandela – all had cracks. All the great contributors of our time had flaws. Why? Because they were bad leaders? No. Because cracks come with being human.
I often speculate that some of these great leaders would never have made it in the age of the internet, where their imperfections would be magnified and scrutinized in social media. They may never have stood a chance of earning credibility or making an impact.
With modern news access, especially in an economy when fear sells, the rarity is the reality, and the reality is the rarity. One murder in a million, amplified in the news reels, suddenly makes a whole city feel afraid. The action of one employee, magnified by social media posts, can color the perception of an entire organization. If we aren't careful and judge the many by the one, the behavior of a single person can taint an entire race. If we fail to understand the context and the means by which news is fed to us, we run the risk of naïve prejudice when we turn on our devices. It is both difficult and essential to a civil, sustainable society to expose ourselves to competing perspectives and exercise our freedom to choose – to "screen in and screen out."
So how do you work with the flaws in yourself and others? Here are three strategies to deal with the imperfect offerings we will inevitably bring to the world in our leadership:
1)    Be sincere. Sincere is derived from the Latin 'sine' meaning without, and 'cera', meaning wax. According to one popular explanation, dishonest sculptors in ancient Rome and Greece would cover flaws in their work with wax to deceive the viewer; therefore, a sculpture "without wax" would mean honesty in its imperfection. Sincerity means being honest with yourself and aware of the impact your behavior has on those around you. It's about being open to seeing your inevitable cracks. You don't need to shine a light on all your defects in public, but honesty and realness in the spirit of acceptance and a commitment to grow and change goes a long way.
2)    Start with the person in the mirror. It is human nature to see the flaws in others more readily than it is to see them within ourselves. Those in the public eye who risk daring greatly in the arena of critics, provide us with a great opportunity to look at ourselves before pointing the finger. Whenever you see arrogance, unethical behavior, or any other crack in a public figure, resist the human impulse to judge and instead take a close look at these potential blind spots within yourself. Get some feedback from trusted people in your life and listen carefully to what they tell you. Get some coaching. Grant yourself and others some grace. Reflect upon the notion that our judgement of others is often a defense against looking at our own flaws and a lack of courage to change.
3)    Find your gifts in the cracks. It's within our flaws that the light of consciousness is able to see its way in and its way out. It is within our wounds that we are often able to use our gifts to make the world a better place. A huge part of my Authentic Leadership retreat focuses on how to transform the shadow side of our nature into our most important contribution to the world. True authentic leadership is fueled by a voyage that takes us inward toward the hardest realities of our lives. To attain the capacity to influence in today's changing and demanding world, along with the depth to lead with a strong authentic presence requires an inner journey, a journey to one's heart, a journey to what I call the "Other Everest."
In my retreats we create a space to pause, go inside, and connect with your authentic self. It is an opportunity to understand your cracks and flaws and learn how to re-frame them 
through increased self-awareness and a stronger, clearer purpose and presence.
Remember – no one is perfect and it is through the cracks or imperfections that the light shines upon our gifts!
If you are interested in a journey to discover how your imperfect offering can make a greater contribution to the world, join me in Banff for "The Other Everest Retreat". 
There are still seats available at the early bird price at until mid-October.
https://davidirvine.com/wp-content/uploads/2018/10/96d066b0c7a04269f3f5dee15bb0e8ae-giclee-print-inspirational-thoughts.jpg
750
600
Administration
https://davidirvine.com/wp-content/uploads/2021/06/davidirvinelogo_2021.png
Administration
2018-10-01 20:25:48
2018-10-01 20:25:48
FORGET YOUR PERFECT OFFERING