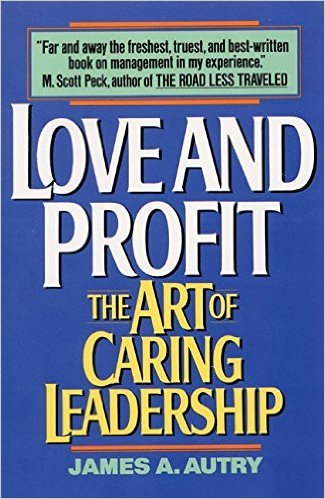 LOVE AND PROFIT – 7 Ways Leaders Show They Care
During his thirty years at Meredith Corporation, James Autry was known as one of the most respected magazine executives in America, overseeing a $500 million operation with over 900 employees. "Leadership," Autry was known to say, "is a largely a matter of love. Or if you're uncomfortable with that word, call it caring, because good leadership involves caring for people, not manipulating them."
Caring for people is not a fad. It's a tried, true, and timeless principle that will always be a part of great leadership. James Autry had it right and in today's increasingly complex, demanding, and changing world, it's never been more true. In a position of leadership – whether executive, manager, supervisor, school principal, board chair, or parent – you are asked to hold a group of people that you serve in trust. However, having a title does not make you a leader. Holding a position of leadership is like having a driver's license. Just because you have one doesn't make you a good one. One measure of a leader is the capacity to influence, but another is the direction of that influence. Is the leader influencing others towards a goal worth pursuing? Leaders who influence are leaders who care – about their people, about the work they do, and about the difference they make.
Here's what I believe it takes be a caring leader:
1. A Decision. Caring is a decision. It's not an emotion. You can decide to care about someone. If you care enough to look deep enough, you will find a reason to care. You can't always control how you feel about other people, but you can certainly control how you behave toward others. Caring is not how you feel; caring is how you act. Caring is not a noun; it's a verb. It's leadership in action. The eminent NFL football coach, Vince Lombardi, said, "You don't have to like your players and associates, but as leaders, you are called upon to love."
2. Discipline. Almost everything humanly expressed beautifully in the world – a musical piece, a work of art, an athletic performance, or successful business venture – is manifested through discipline. The art of caring leadership is no different. Being disciplined about care means intentionally setting aside uninterrupted time to be present for people – in your office, in their office, on the plant floor. I'm not a fan of an "open door" policy for leaders. What I do like is structured office hours when employees know you will be there for them and with them. It takes discipline to carve out the time to show you care. The effort required to a build a discipline of paying attention and extending yourself for others takes work, but it's worth it. Caring in this way is filled with rewards since having someone listen to them and acknowledge their story rewards everyone. The renowned business philosopher, Jim Rohn, once said, "for every disciplined effort, there is a multiple reward."
3. Space. So just what do you do in that disciplined time that you have set aside? You turn off the computer and the cell phone and anything else that can be an interruption, and you give people your full attention. You create an uninterrupted space that makes it safe to be open and honest. You can create a space in your office or you can create a space in their world. Creating space means making the workplace safe to do their work, to make mistakes, and to be who they are. Space is where the real work of leadership is done – sharing the vision, the beliefs, the values – and how all this relates to where the organization is headed and where the employee is needed.
4. Kindness. Leadership is about producing results, but caring leadership involves being committed to people's growth as you produce results together. Willingness to feel the pain of another's journey and accepting without equivocation a person's failings provides a sense that "we are in this together". Kindness means expressing genuine concern through knowing the name, the interests, and the values of every person held in trust to you. Kindness means expressing appreciation, offering a word of encouragement, or catching people doing things right. George Washington Carver said, "Be kind to others. How far you go in life depends upon your being tender with the young, compassionate with the aged, sympathetic with the striving, tolerant of the weak and the strong. Because someday in your life, you will have been all of these."
5. The Absence of Self-Importance. S. Eliot once said, "half the harm that is done in this world is due to people who want to feel important." Manipulation, by definition, is influencing people for personal gain. Caring means you don't need to take the credit. Caring means you make it about others, not you. Caring means a willingness to leave your ego at the door and make others feel important.
6. Service. Albert Schweitzer said, "I don't know what your destiny will be, but one thing I do know. The only ones among us who will be really happy are those who will have sought and found how to serve." Servant leadership is being committed to serve those in your care, insuring that they have what they need to get their job done and grow in the process. Servant leadership is different than "pleasing" leadership, where your effort is spent trying to give people what they want. Pleasing breeds resentment, results in burnout, and turns you into a slave. Serving leads to freedom, self-respect, and wellbeing within and around you. You can't make everyone on your team happy. What you can do is support their success by helping them meet their needs. Start by making a list of what you think your staff needs – resources, training, support – to achieve the results that are expected of them. Simultaneously, have them make a list. Then compare lists and have continual conversations about how you will work together to meet those needs.
7. Clear – And High – Expectations. Caring means building a platform where people can grow. You don't show caring by having low standards or letting people off the hook. You have to care about people and the results they produce. Caring requires high support and accompanying high expectations. You care by supporting people to go beyond what they thought they could do. Then hold them accountable for what they have agreed to. These expectations are part of a leader's value system that must be communicated to those being led. It is important to define your top priorities with your workers and clarify the results and the attitude that you need from them. Then model what you expect – so you will be credible to hold them accountable.
Organizations don't give a leader power. Power comes from the people you serve. You earn power by earning the trust of others. And if you don't use this power well, they will take it away from you. They take it away by making leading difficult for you by resisting and refusing to be influenced, even if they pretend to follow you because you have a legislated title.
When you choose to extend yourself by serving, sacrificing, and caring for others, you increase your capacity to influence. My good friend and former high school principal, Larry Dick, says, "Caring leaders are invitational leaders." When you care, you invite people along on a journey, and inspire them to join you. You offer them a seat on the bus – not because they have to but because they want to. A leader who knows how to influence through genuine caring will be a leader who is in great demand. The paradox, of course, is that caring leaders don't do it to be in demand. They do it because they care.
When James Autry wrote his best-selling book, Love and Profit, he examined carefully the financial benefits of the timeless principle of leading with love. But I think he would agree that profit comes in many forms besides income, including personal and professional growth, increased confidence, friendships, community, an opportunity to contribute and make a difference, and a fulfilling, meaningful life. At the end of the day, why else are we going to work?
https://davidirvine.com/wp-content/uploads/2016/05/5125phSqe6L._SX323_BO1204203200_.jpg
499
325
Administration
https://davidirvine.com/wp-content/uploads/2021/06/davidirvinelogo_2021.png
Administration
2016-05-09 08:50:44
2016-05-09 08:50:44
LOVE AND PROFIT – 7 Ways Leaders Show They Care