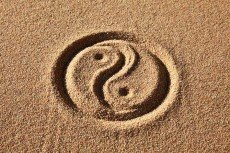 Women In Leadership: It's About PRESENCE, Not Position
We need more women in leadership positions. Women have the experience and understanding that it takes to meet the changing landscape of today's workplace reality. They connect. They are intuitive. They know how to collaborate, how to build consensus, and what real networks are about. They think holistically. And they care.
I realize these are wholesale generalizations. Not all women have the all these skills and traits, and not all men are void of these. To understand women in leadership (as well as men), it is important to understand the two energies at play when people interact. In Chinese philosophy, the concept of "yin" and "yang" is used to describe how seemingly opposite or contrary forces are interconnected and interdependent in the natural world, and how they give rise to each other as people interrelate to one another. It is important to note that this is not a male/female dichotomy, as both men and women carry both these forces. However, women generally are the primary carriers of "yin" energy, while men are generally the primary carriers of "yang."
"Yang" is about:
Moving Outward
Achievement
Separating
Segregation
Silos
"Fixing," "Resolving" "Doing"
Strategy
Courage
Exploration
Linear
Functional
Masculine
"The Destination"
"Yin" is about:
Moving Inward
Engagement
Connecting
Relationship
Collaboration
"Being"
Intuition
Compassion
Attraction
Holistic
Integrated
Feminine
"The Journey"
Consider which list you identify with most strongly. You may find personal balance within you as you see different sides of yourself coming forward in different roles. If you don't identify more strongly with one list over the other, it may indicate an already integrated person, evolving toward a balance between "yin" and "yang."
The purpose of all relationships is to move us toward integration, wholeness.
Hence, if you are strongly aligned with one side of the spectrum, you are likely to get into a relationship (with a person or an organization) who is on the other end. Of course, the reason that drew you together is to help you develop the undeveloped side of yourself. Yet, before you know it, the reason that brought you together soon becomes your battle ground!
So… what does all this have to do with women in leadership? The Western world, and the organizations within these societies, for centuries have been predominantly run on "yang," masculine energy. The evolution of human consciousness is awakening the "yin," feminine energy with us. Employees today are insisting on engagement, collaboration, and creativity in their work. Customers are expecting more than a good product. They want good service. Creating a great experience for both employees and customers, requires a new kind of awareness, an awakening of the "yin" side of the cultures that serve us.
In order to create a workplace culture worth coming to and a workplace that best serves this new world, masculine energy alone will be insufficient. What we need are men and women in leadership at every level in organizations who are aware and courageous enough to bring their feminine side to their work.
What we don't need are women in leadership roles suppressing their feminine nature in order to fit into the outdated, masculine world in order to "get ahead" in the organization. It's about presence, not position.
https://davidirvine.com/wp-content/uploads/2016/01/women_in_leadership1-e1439981136517.jpg
153
230
Administration
https://davidirvine.com/wp-content/uploads/2021/06/davidirvinelogo_2021.png
Administration
2014-01-10 11:33:12
2016-01-21 10:44:13
Women In Leadership: It's About PRESENCE, Not Position