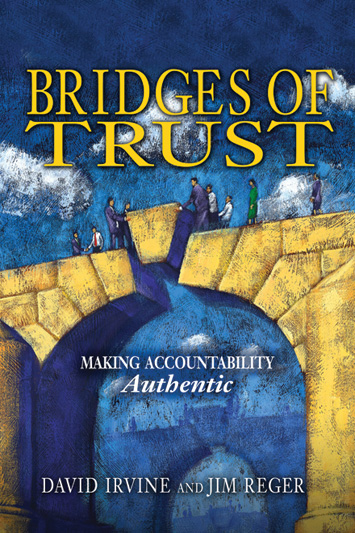 BRIDGES OF TRUST – 12 Ways To Become An Accountable Person
From our research and work of building trusting cultures we know that personal accountability is the keystone on the bridge of trust. In today's world, you won't get power from your title. You get your power from your ability to build trust. And you build trust first and foremost, by being accountable. It's that simple, and it is also that difficult.
Below are 12 ways to earn trust, inspire others, and amplify your impact on the world by becoming an accountable person.
1)     Earn the right to be on people's Accountability List. Accountability is the ability to be counted on. It's always easier to see a lack of accountability in other people. Make a list of people in your life that you can count on, and don't ever take these people for granted. They may save your life one day. Now imagine those you serve making a similar list. Ask yourself if you have honestly earned the right to be on their Accountability List and get to work to earn a place there.
2)     Bring a flashlight to work, not a stick. You don't foster an accountable culture with threats, intimidation, or fear. You build accountability by catching people being accountable, by acknowledging, recognizing, and rewarding accountable action, by shining a light on what you want to build. What you focus on is what grows.
3)     Be an Anti-Entitlement Person™. Being anti-entitlement means that you believe you need to bring value to others before you deserve any compensation. You earn the right to have work/life balance before you expect it. You earn a raise before you presume one. Being anti-entitlement means you chose service over self-interest, gratitude over privilege, and obligations over rights.
4)     Be a contributor, not a consumer. There appears to be two kinds of people in the world: Those who help, and those who hinder; those who give and those who take; those who lift, and those who lean; those who contribute, and those who consume. In the dictionary you'll learn that to consume is to "destroy, squander, use up…" while to contribute is to "build, serve, make better…" In a consumer society, you'll stand above the crowd of mediocrity when you decide to be a contributor.
5)     Be an entrepreneur, not a bureaucrat. In the bureaucratic world, people get paid for putting in time and effort. In the entrepreneurial world, people get paid only for the value they bring to others. Whether you are an entrepreneur or a bureaucrat has nothing to do with where you work. It has everything to do with the decision you make when you come to work.
6)     Bring a No-Blame Attitude™ to you everything you do. Your life will change forever the day you decide that all blame is a waste of time.  Accept responsibility, even when you aren't responsible. Saying, "I'm responsible for that," will never diminish you. Take ownership for your side of the street. Become part of the solution to every problem that's in front of you.  
7)     Reach for your passion and purpose. Why do you get out of bed in the morning? What gets you up early? What keeps you up late? What inspires you to go the extra mile? Accountability without passion is drudgery.
8)     Start your day with a private victory. If you want a respectful workplace or relationship, start by earning self-respect. When you respect yourself, others will respect you. I learned from the late Dr. Stephen Covey to start every day with a personal victory. Get the hard tasks out of the way first thing in the morning. Feel good about yourself by conquering a difficult task early in the day. No one ever took pride or developed self-respect by procrastinating or doing something easy.
9)  Read more books, and less emails. Accountable people are life-long learners. They bring curiosity to everything they do. They have a disciplined approach to daily reflection, study, and learning. Accountable people learn from their mistakes as well as their successes. Read more books. Read less emails.
10)  Stay connected. "The eye can't see itself." We all need others to confide in, help us learn from our mistakes and increase our self-awareness. Find a confidant. They are a hedge against self-deception. It's a myth that it's lonely at the top. It's lonely only if you isolate yourself. Make relationships a priority. Get away from your computer and out of your office. Be in touch. Listen. Acknowledge people. Accountability without connection is compliance.
11)  Show up on time. Actually, show up early. Make it a habit of deciding that meetings start ten minutes before others say they start. Arriving ten minutes early will create space in your day for creative energy, help you be more relaxed, and will show respect to yourself and to those attending the meeting.
12) Grow where you are planted. Don't expect that a better job or a better relationship or a better place to live will make you happier. Do what's in front of you now. Serve where you are. The grass isn't greener on the other side of the fence. The grass is greener where you water it.
https://davidirvine.com/wp-content/uploads/2016/01/bridges_of_trust.jpg
533
355
Administration
https://davidirvine.com/wp-content/uploads/2021/06/davidirvinelogo_2021.png
Administration
2016-04-21 07:59:45
2016-04-21 07:59:45
BRIDGES OF TRUST – 12 Ways To Become An Accountable Person