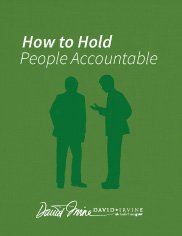 Seven Steps To Holding An Employee Accountable
"Everyone on a team knows who is and who is not performing and they are looking to you as the leader to see what you are going to do about it." – Collin Powell, former US Secretary of State
Last week, in a two-day culture and leadership development workshop with a group of executives, one of the leaders made a fascinating statement: "I've been a positional leader for almost thirty years, and I've never learned an actual process for holding people accountable."
I find this fascinating. We talk about "holding people accountable" all the time. We all know we need to be doing it, and we all think we know what we talking about. But do we? Far too often, tasks are assigned to employees in a haphazard way, hoping that the worker will 'figure it out' and deliver an adequate, even superior, performance. If this is your accountability process, you will soon realize that 'hope' is a better strategy for frustration than it is for results.
I have observed three reasons why managers don't hold people accountable:
They aren't clear about how to do it. There isn't a clear accountability process in place.
They don't want to be the bad guy. A recent Harvard study showed that many managers, hoping to get promoted, refrain from holding their people accountable because they want to get good performance feedback and stay in line for promotion.
It's too hard. Let's face it. It's tough holding people accountable. It takes courage. Leaders must be prepared to put in the time and to have the tough conversations.
Seven Steps To Holding People Accountable
Build Trust – Accountability without trust is compliance. Make the connection. Be trustworthy. Keep your promises. Be accountable. Make the connection.
Discover the Reason – Accountability without a vision – without purpose and passion – is drudgery. If someone lacks accountability in their work, it usually means that haven't found a reason to be accountable. They don't have a why. Before you talk about results, if at all possible, help your employees discover a fit – between what they are passionate about what is expected of them. Even if you find out that their primary passion lies outside of work, at least you are supporting them. Fit people; don't fix people.
Clarify – Ambiguity breeds mediocrity. People need to be clear about what is expected and how success is defined. Clarify expectations, including what kind of attitude is required and what results are promised. People also need a clear line of sight between how their contribution makes a direct impact on the success of the organization.
Get an Agreement – I define accountability as: The ability to be counted on. Accountable people never make a promise they can't keep. But we need to get better at making promises. A request is not an agreement. If you want to hold someone accountable, you must get their full 100% agreement. Before you make an agreement, be sure the willingness, the resources, and the capabilities are in place. If you don't get an agreement to a required request, then go to Step 6.
Support Requirements – To be committed, engaged, and ultimately accountable, people need to feel that they can talk openly about the support they require to achieve their accountabilities. What support is needed? Your employee's negotiated support requirements will be your accountability to them. The support requirements of your employees will be their accountabilities to you.
Consequences – With no consequences there will be no accountabilities. Always start with positive consequences (motivators). Motivators are the internal or external results of delivering on your accountabilities. Motivators are meant to inspire you to achieve your accountabilities. If these don't get the job done, then go to negative consequences.
Follow up – Follow up means a clear understanding of a plan for follow-through, including how often we need to meet and with whom, to ensure that you hold yourself and each other accountable for honoring the promises you have made to each other. If you end up getting to negative consequences, then follow up means you must now be accountable to follow through on the consequences that were put forward to your employee.
If accountability remains a challenge for you or for your organization, I'd like to hear from you. Perhaps I can be of some assistance. http://www.irvinestone.ca/contact
https://davidirvine.com/wp-content/uploads/2016/03/howtoholdpeopleaccountable-1.jpg
236
182
Administration
https://davidirvine.com/wp-content/uploads/2021/06/davidirvinelogo_2021.png
Administration
2016-08-25 12:51:35
2016-08-25 12:51:35
Seven Steps To Holding An Employee Accountable