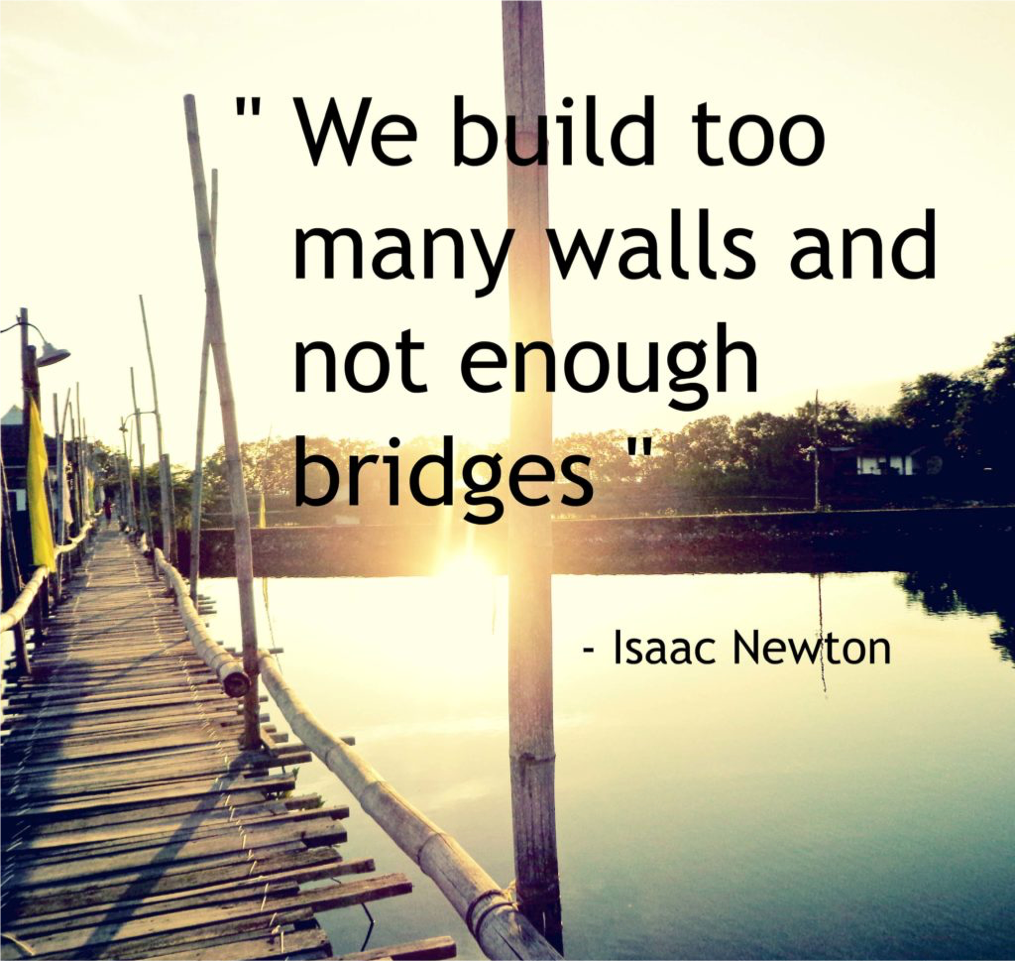 Are You A Wall Maker or a Bridge Builder?
Our power went out this morning. Two seconds after I turned the light on in our kitchen everything went black – and quiet. It's amazing how much noise caused by electricity there is in a house. We were in the dark for about four hours. In the big scheme of things, compared to hurricanes, fires, floods, and terrorism, losing your power for four hours is definitely a luxury problem.
It turns out that our entire neighborhood was affected by the outage. A transformer somewhere on our line blew out. The electric company had crews on site responding to the call within a half an hour at 6 AM. One of our neighbors, who called in the outage, ranted at the serviceman as if it was his fault for the power going out. When Val, my wife, met the repairman, she chose to be grateful that he got up early and arrived as soon as he could. She thanked him for his efforts, offered him a cup of coffee, and expressed a sincere appreciation for him coming out when he did. She built a bridge with him rather than created a wall. She helped to start his day – and her own as well – a little better. And we both, as neighbors, got our power back on at the same time.
My grandmother, in her old-fashioned wisdom, said this much more simply: "You catch for more flies with honey than you do with vinegar." While I'm not sure that anyone actually wants to catch flies, you really do make more friends and get more accomplished by being ready to lend a hand than by being rude. Bringing qualities of empathy, civility and respect to your life and the lives of others will always provide a better chance of getting the results you want than entitlement, bitterness, and antagonism. Being part of the solution will take you farther than adding to the problem.
Are you a wall maker or a bridge builder? Here are five ways to be a bridge builder:
1)    Decide to be an encourager. Everyone needs encouragement. Mark Twain said once that you can live two months on a sincere compliment. When you look for ways to encourage others, you will find your efforts will come back to you – in some form. Encouragement is about giving courage to those around you.
2)    Don't blame your helpers. Don't blame the repairman for your electricity going out. Don't blame the airline agent for your luggage not making the flight. Don't blame the waitress if the restaurant is short staffed. Don't blame the health care worker for your injury. Decide, once and for all, that all blame is a waste of time and your life will change forever. Help your helpers. Don't blame them. Most of us really are doing the best we can.
3)    Give what you expect. There are two kinds of people in the world: those who help and those who hinder; those who lift and those who lean; those who contribute and those who consume. The more you look for ways to give, the more you will be given in return.
4)    Give what you expect. My parents used to say, "You don't get what you expect. You get what you give." If you want help, be helpful. If you want support, be supportive. If you want appreciation, get so busy appreciating others that you don't have time to feel sorry for yourself. Watch how valuable it is to create value for others. It was Zig Ziglar who said, "You will get all you want in life if you help enough other people get what they want."
5)    Practice gratitude. The antidote to entitlement is gratitude. What you focus on grows. What you appreciate appreciates. A friend told me this week how she tripped and fell off the curb crossing the street. As she picked herself up from the asphalt and was observing the scrapes on her knees and hands, she looked up and saw a car turning carelessly into the path where she would have been if she hadn't fallen. Be thankful even for what appears as obstacles in your life. Gandhi said once: "Divine guidance often comes when the horizon is the blackest."
Supreme Court of Canada Chief Justice Beverly McLachlin was at the University of Alberta last week to deliver the Department of Philosophy's annual public lecture. The lecture was about the landmark moments in Canada's 150-year constitutional history. In her speech, McLachlin delivered an implicit rebuttal to the spirit of nationalism, racism, and prejudice so prevalent in the world these days. Some nations, she told her audience, define themselves by exclusion – by borders, by walls. In contrast, she insisted, Canada defines itself not by walls but by bridges.
As you step back and observe your own history and your own life, how will you define yourself? Will you be a wall maker or a bridge builder?
https://davidirvine.com/wp-content/uploads/2017/09/PastedGraphic-2.png
961
1015
Administration
https://davidirvine.com/wp-content/uploads/2021/06/davidirvinelogo_2021.png
Administration
2017-10-01 15:11:00
2017-10-01 15:11:00
Are You A Wall Maker or a Bridge Builder?