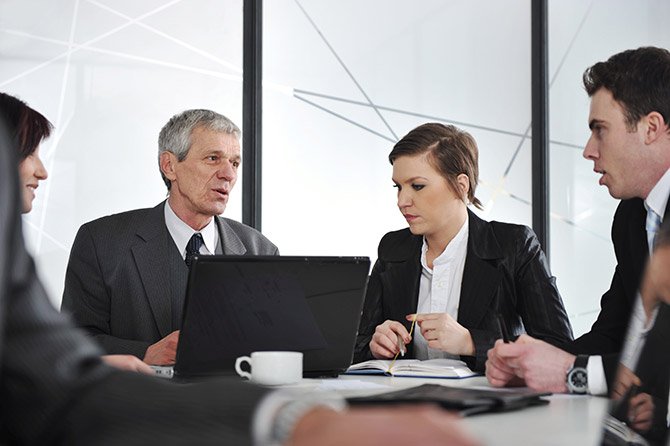 PEOPLE ARE WORTH IT – Connection As A Path To Leadership
Dad once looked down an assembly line of women employees and thought, "These are all like my own mom – they have kids, homes to take care of, people who need them." It motivated him to work hard to give them a better life because he saw his mom in all of them. That's how it all begins – with fundamental respect. – Bob Galvin, speaking of his father, founder of Motorola
Leadership is about connection. It's not just a rational, analytic process. If you are going to influence people; if you are going to get past compliance to genuine engagement; and if you are committed to creating an environment that produces the results you need, you have to reach people's heart. If you simply give your employee a job description or list of expectations that are required to do their work without a sincere interest in them as a person, you relegate your people to simple "task-doers," rather than genuine contributors. In order to lead, people need to know you care. They need to know you have a vested interest in them as a person, a genuine commitment to their wellbeing that goes beyond what they do or what they achieve.
What this means is that in order to engage people, you not only have to know yourself and have a high level of engagement in your own work, you also have to be engaged with the people you are attempting to engage. The first condition of leadership is connection.
Making a connection with employees begins by asking and sincerely seeking to understand the fundamental engagement question: "What do each of your employees need to be motivated?" Because every person is unique, it's most likely that each employee will have a different answer to this question. If you don't know the answer, then you are just guessing. And the risk of being wrong is too great. It's much better to simply ask the question and set out to discover the answer.
Before he hires people, a leader in a long-term care organization asks the engagement question this way, "What are you passionate about? What would excite you to come to work here?" In his world, answers deal with interests in areas such as end of life challenges, dementia, HR/labor relations, and health and safety. He then asks: "How can we, as an organization, help you develop that passion?"
After listening to their response, he concludes with: "If we can help you develop that passion within your role, do you mind being a resource, coach, mentor, etc. for others in this organization?" Over many years, he has yet to have anyone say no. He then sets out to help them develop a plan that will grow their area of interest and contribute that talent to the organization. In this leader's view of engagement, you have to give people a sense that they are needed and find a way to connect to their unique talents and passion. His motto to engage people (employees and residents alike) is to give them both a voice and a choice.
Even if you aren't in a leadership position, ask three fundamental leadership questions in relation to anyone you serve (customers, clients, external stakeholders):
What are you doing to get to people's heart?
What are you doing to make a connection to your employees, those you serve?
What are you doing to uncover your employees' passion and talents?
In her book, "Kids Are Worth It," Barbara Coloroso, the world-renowned parenting expert, says parents need to create a home environment that provides six critical life messages:
I believe in you.
I trust you.
I know you can handle life situations.
You are listened to.
You are cared for.
You are important to me.
It's no different for employees. To be engaged, we all need to work – and live – in environments that support these fundamental messages.
What's your way of connecting? What worked or did not work for you?
https://davidirvine.com/wp-content/uploads/2016/01/business_leadership1.jpg
446
670
Administration
https://davidirvine.com/wp-content/uploads/2021/06/davidirvinelogo_2021.png
Administration
2016-04-04 10:50:37
2016-04-04 10:50:37
PEOPLE ARE WORTH IT – Connection As A Path To Leadership