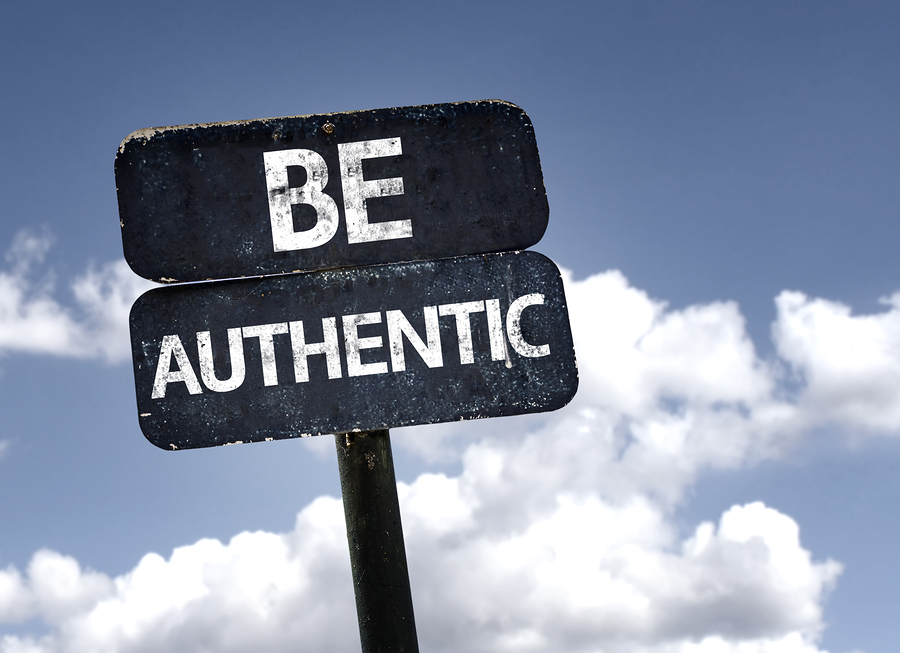 Three Attributes of Authenticity – It Goes Beyond "Being Yourself"
"We are in the age of authenticity," writes Adam Grant, in a recent New York Times article, "where 'be yourself' is the defining advice in life, love and career… We want to live authentic lives, marry authentic partners, work for an authentic boss, vote for an authentic president. In university commencement speeches, 'Be true to yourself' is one of the most common themes…"
But I think we have to understand just exactly what we mean by authenticity and "being yourself".
If you've been around as long as I have, you'll remember the children's story of Br'er Rabbit and the Tar Baby. Br'er Rabbit, in the famous Joel Chandler Harris story of the old south, walks along the road of life, whistling and happy, until he encounters a tar baby on the side of the road who he believes is insulting him. Br'er Rabbit strikes out at the tar baby because he thinks he would not be true to himself if he were to let someone say nasty things about him. But by kicking and hitting the tar baby he ends up getting completely embroiled in the tar. He actually loses his sense of self by reacting to someone else's evaluation of him.
Just because you are upset with someone doesn't mean you have to confront them in order to prove your authenticity. Being authentic is not about showing your "true self" indiscriminately to the world. It's also not about erasing the gap between who you are on the inside and what you reveal to the outside world. In fact, if you aren't careful, this approach can easily get you enmeshed in tar. We all have thoughts and feelings and tendencies and impulses in our lives that are better left unspoken, or at best spoken only with trusted friends or confidants.
An example of this is cited by Adam Grant in his NYT article. When Cynthia Danaher was promoted to general manager of a group at Hewlett-Packard, she announced to her 5,300 employees that the job was "scary" and that "I need your help." She was supposedly authentic. She was "being herself," and her team lost confidence in her.
I have learned from my colleague and co-author, Jim Reger, that authentic people exhibit three fundamental qualities:
1)  Their identity and security come from within, not from someone else's view of them. Br'er Rabbit loses his way by reacting to someone else's opinion of him. The more we react to other people's evaluation of us, the more we demonstrate a lack of self-assurance.
People who are dependent on others for a sense of worth spend their time and energy seeking approval, rather than pursuing their own goals. Subsequently, they fall short of their potential. They are obsessed with getting recognition from others instead of relaxing and bringing to the world who they are meant to be.
Being authentic means you are able to clarify your own values and decide what is most important to you. You are able to live your life in a way that is truly expressive of your beliefs, values, and desires. This does not mean you express yourself without regard for the opinions or feelings of others. It means, instead, that you are self-aware enough to be both honest and respectful.
2.   Authentic people are comfortable with themselves. When your worth and security come from within, you have no interest in bullying, abusing, or disrespecting others because you are at peace with who you are. When you are at peace with yourself you are open to learn, to respond appropriately rather than impulsively, and are open to the possibility of change. Authentic people are willing to re-evaluate their point of view when presented with new information.
Authenticity means a willingness to think through your position when you encounter different points of view. Authentic people are humble enough to bring curiosity rather than rigidity to their relationships. They can set their own limits while also considering the views of others. Rather than needing to defend themselves or criticizing, they respect differing opinions and are open to learning.
3.   Authentic people care. They care about their work. They care about the people around them. And they care about themselves enough to not let themselves be disrespected. Authentic people seek the betterment of all constituents. They choose service over self-interest.
The ability to clarify and pursue what you genuinely want for yourself while also maintaining close relationships with others – and respecting them to also be themselves – is one of the major attributes of an authentic person. Most of us are able to do only one of these at a time. We either conform to the culture in order to be accepted, or cut ourselves off from others in order to be ourselves. It's a sign of authenticity if you able to walk the line between seeking both independence and connection.
Authenticity is a tall order. However, if you are sincere (you don't have a hidden agenda for personal gain) and you are honestly striving to work for what serves the greater good people are much more apt to trust you. Trustworthiness results from authenticity.
If you are interested in assessing your own authenticity or getting some input from others on how authentic you are perceived to be, you will find a quick no-fee authenticity assessment on the home page of my website:
www.irvinestone.com
If you are interested in learning more about how to be authentic and deepening your authentic presence, send me an email or contact me at:
www.irvinestone.ca/contact
and we'll schedule a ½ hour complementary call to explore your options.
https://davidirvine.com/wp-content/uploads/2016/06/bigstock-Be-Authentic-sign-with-clouds-75610984.jpg
653
900
Administration
https://davidirvine.com/wp-content/uploads/2021/06/davidirvinelogo_2021.png
Administration
2016-06-29 10:21:23
2016-06-29 10:21:23
Three Attributes of Authenticity – It Goes Beyond "Being Yourself"