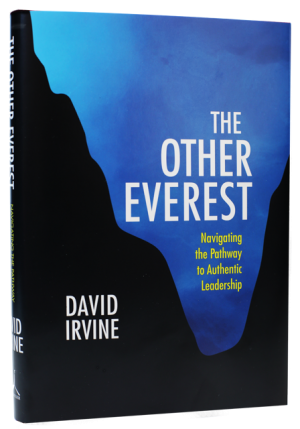 CONVERSATIONS WITH AUTHENTICITY – What Makes Ordinary leaders Extraordinary?
I have the great privilege to meet and learn from remarkable leaders and incredible human beings in the course of my work. It is one of the many advantages of doing what I do, and I learn some valuable lessons from everyone I encounter.
You may be aware of my Podcast project entitled "The Other Everest." While much of social media focuses on stories of "famous" people, the intent of my Podcast series is to shine a light on the stories of "ordinary" leaders who are making an extraordinary difference in the world – people on the journey to what I call "The Other Everest." Along with examining their own unique philosophy of leadership and what they do to create change, I have them share their story of how they became the kind of person that enables them to make such an impact. To listen to their stories, download the Podcasts at: 
https://irvinestone.podbean.com/
I have found that there are four qualities that run through the fabric of the lives of authentic leaders, exemplified in the podcasts:
1)    A Compelling Humility. All the leaders on these podcasts are surprised to be asked to record their story. Their ego doesn't drive their work. Humility opens the door to curiosity and self-awareness. They influence others because they themselves are open to be influenced. True, authentic leaders aren't attached to titles, degrees, or the size of their office. They are keen to learn about themselves, receive feedback, and grow. You get a sense of the person behind the role, and that imperfect – at times vulnerable – person is what comes through.
2)    Courage That Inspires. Authentic leaders aren't just humble and modest. They are also immeasurably courageous. While courage can be expressed in many ways, one voiced it as the courage to "reach in" through the diminishments and the defeats, and find a way to turn encounters with illness, failure, bankruptcy, injury, abuse, death of a loved one, or any type of tragedy – and come out the other side with newfound awareness, strengths, and gifts. The inner journey forces us to meet our demons face-to-face, to travel long miles in the dark without seeing the light at the end. But these leaders have the courage to keep walking – in their own unique human way – until they eventually realize that the light at the end of the tunnel is actually coming from their own headlamp. Authentic leadership is fueled by a voyage that takes us inward and downward, toward the hardest realities of our lives. The best leadership comes from people who have penetrated their inner darkness, men and women who can lead the rest of us to a place of authenticity that is hidden from what the world sees, who have been there and know the way, and in so doing, know the why.
3)    A Vision of Caring. These authentic difference makers are "we" people not "me" people. They choose service over self-interest, committed to a sense of purpose beyond their immediate pleasure and gratification. They care about being successful, but they care even more about being devoted – to their calling and to bring value to those they serve. Each of these leaders care enough to take the time to listen to an inner calling, a vision that lifts them during the times of being "stuck" into an understanding that such periods are really fallow periods, a time to let the soil renew itself before it can grow a new crop.
4)    An Arousing Hope. In a world where violence, terrorism, and abuse can abound, authentic leaders inspire us with hope. But hope is not naive enthusiasm. The best portrait of hope I know of is painted by the former US president, Barack Obama:
"Hope is not blind optimism. It's not ignoring the enormity of the task ahead or the roadblocks that stand in our path. It's not sitting on the sidelines or shirking from a fight. Hope is that thing inside us that insists, despite all evidence to the contrary, that something better awaits us if we have the courage to reach for it, and to work for it, and to fight for it. Hope is the belief that destiny will not be written for us, but by us, by the men and women who are not content to settle for the world as it is, who have the courage to remake the world as it should be."
May we all be inspired by those around us who bring courage, caring, and hope through their leadership and lives. May we be inspired by the humble, authentic people in our lives who are making a difference – and let them know how valued their contribution is. And may we each know that we are those leaders.
https://davidirvine.com/wp-content/uploads/2018/09/OtherEverestCover-e1556468563226.png
429
300
Administration
https://davidirvine.com/wp-content/uploads/2021/06/davidirvinelogo_2021.png
Administration
2019-04-28 10:23:46
2019-04-28 10:23:46
CONVERSATIONS WITH AUTHENTICITY – What Makes Ordinary leaders Extraordinary?